Say hello to Rebecca @RebeccaBenckert - our new ROTW!
---
Hey Rebecca! Tell us a little about yourself.
I am 29 years old and just started crocheting only a year ago! When I am not on my couch with yarn, I'm most likely in the gym or outside playing with my dog. I work full time as an assistant property manager at a luxury apartment community so I make sure to sneak in crochet time on my lunch breaks!
You started Crocheting a year ago, but when did you start your crafting journey?
My first experience with crafting was actually when I was in middle school about 6th or 7th grade. My favorite teacher, Mrs. Reese, started a knitting club where we learned how to knit and I loved it! Fast forward to a year ago when I saw an Instagram reel of someone crocheting a super adorable cow and I knew that was what needed to come next for me. I taught myself to do amigurumi and I have been "hooked" ever since lol!
That's amazing! How do you decide what you're going to make next?
I like to rotate what I make so I don't get bored of making the same pattern so many times in a row. Tik Tok and Instagram are also a great source of inspiration so I can see how people transform patterns I already have or a new pattern I need to add to my collection.
What do you enjoy most about Amigurumi?
I love people's reactions when I tell them I crochet then actually show them what I crochet. Nobody expects to see an adorable stuffed toy! The actual crochet process is so meditative for me and watching rounds of yarn turn into a little creature with a personality never fails to amaze me… like I created this by hand!
What was the most challenging project you worked on?
My most challenging project is easily this giant elephant I made. It was a little about half my size! I hadn't made that pattern before so I had no idea it would work up to be so large in the yarn I was using, but once I started I had to see the project through to the end and it was well worth it.
What was the shortest project you ever worked on? (excluding frogging!)
The bull-nana split bull I found on Ribblr and made today before this interview!
What are you currently working on? Be honest - how many WIP do you have right now?

I am currently making a strawberry frosted sprinkle donut inspired giraffe! I'm doing my best to commit to one project from start to finish…but I do have 2 WIPS right now, haha!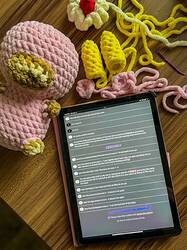 Which of your makes are you most proud of?
My make I am most proud of right now is my watermelon elephant (watermelephant!) I loved the play on words, was inspired by the colors, and I received such wonderful feedback from the crochet community about it. I even inspired fellow crocheters to make their own watermelephant, which is an incredible feeling to be the source of someone's inspiration!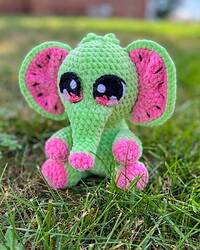 What are some common "rituals" you have before a new project?
First thing I do is visualize the end product. If I can't see how I wanted it to look when finished, it isn't something I move forward with. Once I have the end result in mind, I will spend almost too much time picking out the perfect color combinations to bring my visualization to life and stare at my hooks until the right one speaks to me for size!
And what inspires you to create?
I take a good bit of my inspiration from nature such as the seasons, the colors of the sky, produce, and food! I am not someone who wears a lot of color so I get to enjoy the fun of colors through my work. It is an added bonus if I can turn any of those things into a pun or a play on words.
What is your current goal with crafting?
My current goal with crochet is to do a craft show/market! With my full time job, it takes just a little longer to complete a project, but I'm building up my inventory so I can make it happen! I also look forward to expanding my content creation.
Pop culture time!
Any favorite song, book or movie you would like to recommend?
I highly recommend any book by Jodi Picoult! I have been reading her books for almost 15 years and they never fail to draw me in and leave me feeling all the emotions. She loves a good twist and more than once I have had to take a lap because the twist was so good!
What is your favorite feature on Ribblr?
My hands down favorite feature on Ribblr as a crafter is the interactive pattern interface. Between work, the gym, and breaks in between, being able to keep track of where I am in a pattern through this feature saves the day for me because I can forget where I am and make a mistake! This especially comes in handy with numerous rounds of single crochet!
Awesome!
And finally, please pay it forward - your shoutout to a fellow Ribblr*
I want to shout out TWO fellow Ribblrs! First is @crochetby_mc, who is the pattern maker for the adorable turtle, and @cherriesbyjess, who is the pattern maker for the precious Terry the Taurus pattern that I turned into a bull-nana split. The best part? These amazing patterns are FREE on Ribblr!
Thanks so much for sharing!
---
Find all our previous featured Ribblrs here.
Want to be our next Ribblr of the week and earn a special badge?

Send us a message and be our next Ribblr of the week (plus earn our special Ribblr of the week gold badge​)
---