Say hey to Ruo (@freaky444yarn) the designer behind freaky444yarn, and our Ribblr of the week!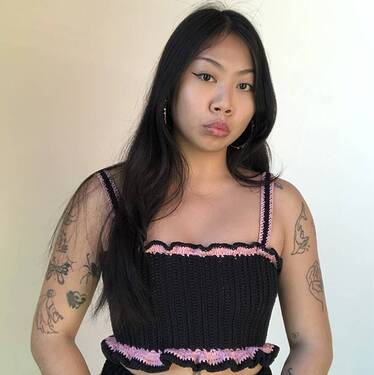 ---
Hi Ruo! Tell us a little about yourself.
Hi, I'm Ruo! I'm a crochet artist and designer currently living in the Bay Area. I started crocheting in January last year and haven't stopped ever since! I'm currently a student, graduating with a BA in English this year. I also work with kids, and teach crochet to kids as well. My other interests include literature, visual arts, hiking, and traveling.
When did you start crafting and how?
I started crocheting last year, but I learned how to knit from my mother when I was a kid. I've always enjoyed working with my hands and creating, whether it was painting, making jewelry, knitting or crochet. I picked it up by purchasing patterns and browsing video tutorials. The idea of creating something with my own hands really appealed to me, and I wanted to create a wardrobe I loved and express my creativity as well. Crochet also soothes my anxiety.
That's amazing! And how did you start designing?
I loved the idea of being able to bring designs and ideas to life, so after learning the basics of crochet, I started freehanding garments based on sketches. Ever since I was a little kid I was interested in fashion and designing, so crochet and knitting are the perfect outlet for that creativity. I started writing patterns because I wanted to share some of my designs with others, and seeing other people create my designs has been the most fulfilling thing about designing patterns!
Being so creative - do you have a favorite craft type? And if so - why?
I prefer crochet currently, it has taught me so much patience and I always love learning new techniques and incorporating them into my designs.
We're always interested to know - what was the longest project you worked on?
Any of my sweaters are usually a long haul project, taking up to a few months for me to finish. I like taking my time with sweaters and like choosing unique and colorful yarns that stand out. One of my favorite sweaters I've made is the "on fire" sweater pattern by MadeintheMoment.
How about the shortest one? (excluding frogging!)
I think I love making bralettes and crop tops because they are the fastest projects to finish!
And be honest - how many WIP do you have right now?

I'm currently working on new designs for the summer! I want to put out a few more patterns in the Marina series as well as venture into skirts and dresses. And I have at least 15-20 WIPs, but I'm trying to change that, and go back and finish abandoned WIPs!
Which of your designs are you most proud of?
My cherry blossom vest and bralette. The Sakura bralette is now out on Ribblr!
That's beautiful! What is your usual process of designing?
I usually start with a seedling of an idea in my head, which I would then sketch out, and imagine how I would construct the item using crochet. I like to incorporate different stitches and motifs in my work, so once I research and decide what techniques or stitches I want to use, I start creating the sample. This either becomes the final product, with a lot of unraveling, or I create another sample with a more refined design. I often take notes and pictures while I work, so I can translate it into a pattern later.
With that in mind - what is it that inspires you to create and design?

I like getting inspiration from fashion. I also like browsing crochet stitch books or free resources online, incorporating different types of stitches and images in my work. I'm influenced by popular culture, music, films, and certain aesthetics that I'm drawn to. In a broader sense, I'm inspired to create because creating something that fits you perfectly is a huge confidence and self esteem boost.
That's really interesting and leads us to our next question - any favorite song, book or movie you would like to recommend?
I like electronic music to listen to while creating like Air and Daft Punk. I love Studio Ghibli films.
And to lighten our moods - can you share a funny/interesting story that happened to your recently?
Teaching crochet to kids is always such a trip. Although some of them do learn quickly, a lot of them aren't able to pick it up right away and get frustrated and give up. It's so sweet to see how much they do genuinely want to learn, coming in with their own hooks and yarn that their parents bought.
That is really awesome.
We'd love to know - what is your favorite feature on Ribblr?
I love that you can watch linked tutorial videos directly on the same page as the pattern. It makes it really easy to learn new techniques or stitches while going through a pattern.
Finally, pay it forward - your shoutout to a fellow Ribblr!
@MadeintheMoment ! They write amazing patterns and have the most unique and cool graph designs!
Thank you for sharing Ruo!
---
Want to read more?
Check out all our previous featured Ribblrs here.
Want to be our next Ribblr of the week and earn a special badge?

Send us a message and be our next Ribblr of the week (plus earn our special Ribblr of the week gold badge​)
---