Say hey to Steph (@essdeecrafts) the designer behind essdeecrafts, and our Ribblr of the week!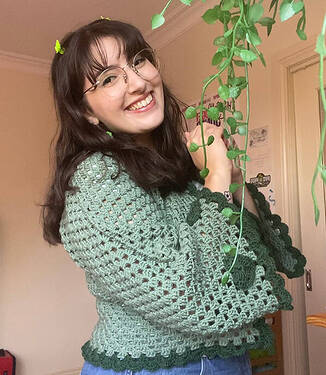 ---
Hey Steph! Tell us a little about yourself

Hi I'm Steph! I'm 23 and from Melbourne, Australia. When I'm not crafting, my life is mostly consumed by study as I work through my 6th and final year of my Law/Science double degree at uni.
When did you start crafting and how?
My grandma taught me how to knit when I was about 8, but like many others I got back into crafting during the 2020 lockdowns, where I also picked up crochet and embroidery.
And how did you start designing?
After trying a few crochet patterns, I found that it was really hard to customise those patterns to my body type. I wanted to make something that fit me well and also matched my style, so I created my first ever design, the Heart On My Sleeve Cardigan! I made sure to make the pattern made-to-measure and size inclusive so that others struggling to get the right fit like me could create a cardigan they felt comfortable and cute in.
That's amazing! So is Crochet your favorite craft? And if so - why?

Crochet is definitely my favourite, I love how versatile it is and how you can just about make anything! I especially love a good classic granny square and always find myself coming back to them.
What inspires you to create?
The kindness and incredible support of the crochet and knitting community always inspires me to keep creating and challenging myself with my designs. You know they will always have your back when you're not feeling confident with one of your new makes!
We are keen to know - what was the longest project you worked on?
Probably my first ever crochet project which was a granny square blanket! It took me forever to get the join as you go method right, and there were soooo many ends to weave in. However, it was definitely worth all those hours as it sparked my love for crochet.
And the shortest one? (excluding frogging!)
I love making little crochet daisy earrings in all different colours. They take about 30 mins to make.
Sounds fun!
So what are you currently working on? And be honest… how many WIP do you have right now?

I've got quite a few projects at the moment, and definitely have a few that I haven't finished from months ago (oops). Currently though I'm loving this fluffy knit cardigan I'm making as it's my first freehand knit.
Which of your makes or designs are you most proud of?
I love my Strawberry Kisses set with the bucket hat and top! The hat was the first crochet item that really launched my business after I'd been struggling for over a year to grow my Instagram account. I am so grateful for all the love I've received on these two patterns!
And what is your usual process of designing?
I don't really have a set process so it definitely involves a lot of trial and error that's for sure! I usually base my design off the colours I want to use at the time, which always seems to end up being some shade of pink. If I'm making a new clothing design that I want to turn into a pattern, I always try to make it a made-to-measure design so that it can be inclusive for everyone.
Time for some pop culture!
Any favorite song, book or movie you would like to recommend?
One of my all-time favourite books is Pride and Prejudice; I love just about anything Jane Austen.
Any funny/interesting story you'd like to share?
I randomly got a message on Instagram the other day from someone (hi Catarina!), saying that they had just come across my account and had thought the pictures of me were actually her for a second! Turns out I have a long-lost twin in Portugal because we really do look exactly the same.
That's amazing!

We'd love to know - what is your favorite feature on Ribblr?
I love how each stitch has a linked tutorial! It makes it so easy to create beginner-friendly patterns.
Finally please pay it forward - your shoutout to a fellow Ribblr
A massive shoutout to @madebylu who was the first person to pattern test for me using Ribblr's testing function! Lu made the cutest blue version of the Strawberry Kisses top and was such a great help during the testing process, so be sure to check out her account and her Instagram (@madeby_lu)
Thank you for sharing Steph and congrats on your amazing journey!
---
Want to read more?
Check out all our previous featured Ribblrs here.
Want to be our next Ribblr of the week and earn a special badge?

Send us a message and be our next Ribblr of the week (plus earn our special Ribblr of the week gold badge​)
---
Hot sale now on essdeecrafts shop - don't miss out​
---