Say hello to Tabitha (@sadgirlcrochet) - our Ribblr of the week and the designer behind Sad Girl Crochet!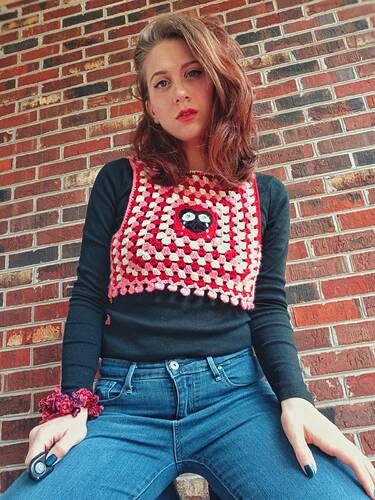 ---
Hey Tabitha! Tell us a little about yourself.

My name is Tabitha (Sad Girl Crochet), and I live in the Shenandoah Valley. I am 25, have a three year old son, and love to crochet! I love 70s music, bluegrass, Thai food, and houseplants
I majored in English and currently work in SEO for my day job! I started Sad Girl Crochet in 2020 while stuck in quarantine, and have been writing and publishing patterns ever since.
When did you start crafting and how?
I was gifted a Klutz "learn to knit" set for my 11th birthday, and became instantly obsessed. I knitted for a year before learning to crochet at 12, and have been designing and creating ever since! Though I've always crocheted, my passion for it reignited in quarantine, and I decided to start posting and selling my makes online.
And how did you start designing?
Honestly, I've always designed my own patterns. I learned pretty early how to design things of my own - Knitting in Plain English by Maggie Righetti was one of the books I learned from, and it had a fantastic section on designing garments that I still refer to today! I've always loved freehanding an item and surprising myself along the way with new methods and discoveries. But I started to take pattern writing more seriously in 2020, after starting the Sad Girl Crochet shop!
That's amazing!
With that in mind - do you have a favorite craft type and if so - why?
Definitely crochet! I love to knit and embroider, but crochet makes the most sense with my brain - the geometric tendencies within crochet make a lot of intuitive sense to me. I love that I can take my project in any direction when I crochet and I feel that the creative possibilities with crochet are much more abundant. Lately, I've been really into crochet colorwork and tapestry crochet!
What was the longest project you worked on?
A baby blanket I made for a friend earlier this year! It wasn't particularly difficult, but I had to make upward of 100 hexagons for a beehive look. It took me a couple months to make every hexagon, and a few weeks to join everything and make the border! It was one of the first blankets I've ever made, and was well worth the effort.
And the shortest one? (excluding frogging!)
Oh gosh, that's hard! I make a lot of one-day amigurumi for my toddler. There's this one triceratops pattern that I can make in half an hour flat, so he has quite a few of those, LOL. I really love instant-gratification patterns, so it's hard to pick just one!
What are you currently working on? Be honest - how many WIP do you have right now?

Hehehehe…too many to count. But we moved a few months ago so quite a few of my WIPs are still packed up - out of sight, out of mind! But right now, I am working on a birthday present for a friend, a cabled headband for myself made from a gorgeous local wool I was gifted, a Totoro wall hanging, and a scrap yarn blanket for my bedroom!
Can't wait!
Which of your designs are you most proud of?
The piece I'm most proud of is not due to it being particularly challenging on a technical level, but because I was able to do some actionable good with it - my Screw-U-terus pattern that I designed and published after the overturning of Roe v. Wade. With this pattern, I was able to raise over $200 for my local reproductive justice league, and ensure that reproductive rights were upheld in my community. Every purchase of this pattern contributed to a greater good, and for that I am thankful.
What is your usual process of designing?
Sketch. Freehand. Frog as needed. I definitely play it fast and loose when I design! I mark some notes as I go along but my method is usually to "make it look as close to the sketch as possible, then reverse-engineer a written pattern from there", LOL.
What inspires you to create/design?
Everything! I know that sounds cliche, but I find inspiration in everything, I try to go to a lot of museums and watch a lot of movies to get inspiration, and peruse vintage runway looks. Lately I've felt very inspired by Keith Haring prints, 90s Betsey Johnson, and Studio Ghibli. I love bold colors and clean lines and out-of-the-box designs, and have been feeling a STRONG sense of 90s nostalgia (even though I was born in 97 and don't remember much about the 90s aside from Tickle Me Elmo…)
Pop culture time! Any favorite song, book or movie you would like to recommend?
My absolute favorite books right now are The Book of Form and Emptiness by Ruth Ozeki and Trust Exercise by Susan Choi. I just watched Glass Onion a few days ago and loved it. I implore you all to listen to Long Time Coming by Sierra Ferrell, Changes by King Gizzard and the Lizard Wizard, and Pure Guava by Ween.
Share a funny story that happened to you recently!
So it was recently Christmas, and we got my son a Lego set that he had been asking for for a few months - the LEGO Creator 3-in-1 Beach House set, to be exact. Well, we also got him a blue base plate to put it on, so it would look like it was sitting on the water. It was wrapped separately so he had something extra to open. Well, after all the presents were opened, my husband and I asked kiddo what his favorite present was. His answer? The blue base plate.
That's hilarious! What is your favorite feature on Ribblr?
The ability to mark your progress in a pattern!! I love online patterns but I cannot tell you how often I would lose my place or read the same line over and over again because I couldn't physically mark up a PDF. I adore that I can cross off lines as I complete them and make notes in the pattern itself. The interactive nature of Ribblr patterns is so innovative and helpful to me!
Pay it forward - your shoutout to a fellow Ribblr
I love @freaky444yarn !!! Ruo is one of my favorite knit and crochet designers right now and I am always blown away by her creativity and drive. She has such a clear and unique artistic vision and I always get so excited every time she posts something new. She perfectly straddles the line between cozy, trendy, and edgy and I am so impressed by her every day.
Thank you for sharing!
---
---
Want to read more?
Check out all our previous featured Ribblrs here.
Want to be our next Ribblr of the week and earn a special badge?

Send us a message and be our next Ribblr of the week (plus earn our special Ribblr of the week gold badge​)