Say hello to our Ribblr of the Week: Vanessa @NessasKnots!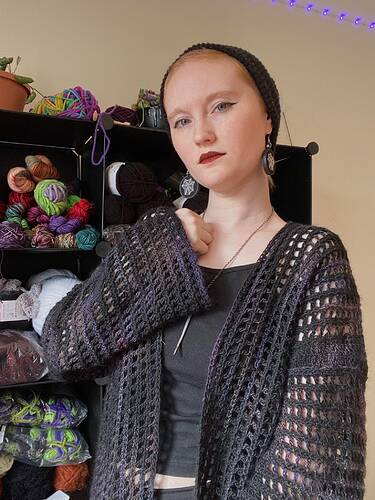 ---
Hey! Tell us a little about yourself
My name is Vanessa (or Nessa for short) and I'm a crochet designer who loves to focus on creating spooky/alternative patterns! It's halloween 24/7 in my world.
I am also a stay at home parent who does crochet pattern designing full time.
When did you start crafting and how?
I started crafting when it was recommended to me a couple years ago as a way to help my anxiety. I honestly did not think I would like crochet so much but I gave it a go, and quickly fell in love!
I've been crocheting nearly daily ever since. I don't think my therapist realized what an obsession she would cause
That's amazing! And how did you start designing?
I started crochet designing because I had a really hard time finding patterns that fit my vibe. I would try to search for something and simply just couldn't find anything I wanted. I figured if I was looking for more alternative patterns others must be too, so I released my first pattern and it ended up getting so much support it inspired me to keep going!
Do you have a favorite craft type and if so - why?
Crochet is for sure my favorite craft! I love how versatile it is. You can make anything from plushies to home items and more! I also am a super beginner knitter, and I love my knitting machine as well for quick and easy projects!
So far, what has been the longest project you worked on?
My longest project probably would have to be "The Lost Souls Shawl" - It's one of my favorite patterns to make, but it sure does take a while!
And the shortest one? (excluding frogging!)
I used to make a lot of amigurumi with thick yarn and those were always so quick and fun!
What are you currently working on? Be honest
- how many WIP do you have right now?
Currently I've been working on shawl commissions because one of my videos took off and brought lots of new faces to my page! In between pattern designing I make a lot of "virus shawls" and "lost souls shawls" and folks love them! I also have been working on a couple different versions of my next pattern so I have some fun color variations to post!
Which of your makes/designs are you most proud of?
I would say I'm the most proud of my "Coffin Purse" pattern. It was my very first pattern, and I almost did not release it because I was nervous it would flop since at the time I really did not have very much of a following - but my fellow spooky fiber artists came out to support!
I'm really proud of myself for trying something new and putting myself out there even when I was anxious!
What is your usual process of designing?
If I get an idea, I will draw up a sketch of it and then try to brainstorm what type of yarn would work best. Then once I figure out what yarn I will use I start crocheting, probably frog it a bunch of times, and hopefully end up with a nice pattern in the end!
I have tons of pattern ideas that have never made it out to my page since they were a total fail!
We get you!

Your style is very unique. What inspires you to create & design?
Anything Halloween, Goth, Alternative and Spooky themed! I take a lot of inspiration from spooky shows or movies I love as well. (Such as my Oblina knitting machine scarf - If anyone remembers "Ahh Real Monsters!!") Another thing that has inspired me to keep designing is being able to see the designs I've created all over the world. It's so incredible to see someone else's take on an idea I've had. It makes my day every single time someone tags me in a finished project using my designs!
Awesome! Ready for some pop culture?
What are some songs, books or movies you would like to recommend?

I'm sure almost everyone has seen this movie but my favorite of all time is Beetlejuice!
It's Monday!

Care to share a funny story that happened to you recently?
When I drop off my oldest to school I have to take my youngest with me who is 3 so he just says whatever pops into his head. As we walked past another parent he loudly yelled "mommy he has no hair!!!"
I felt so bad, but he took it well haha.
What is your favorite feature on Ribblr?
My favorite Ribblr feature is being able to include videos, photos, etc. into patterns so easily.
Awesome! And finally - pay it forward - your shoutout to a fellow Ribblr
I have to shout out Winter Nightmare Crochet!!
@Winternightmare They are another designer who creates spooky themed patterns and they're always so supportive of all my posts, which I appreciate so so much!
Thank you so much for sharing!
---
---
Want more?
Check out our previous featured Ribblrs here.
Want to be our next Ribblr of the week and earn a special badge?

Send us a message and be our next Ribblr of the week (plus earn our special Ribblr of the week gold badge​)