This week, we are excited to feature Camilla (@Milla96) as our Ribblr of the week!
Scroll down to read our inteview with Camilla
In case you've just joined us - each week we feature a member of our community as our Ribblr of the week! You'll also be able to find our Ribblr of the week on our homepage.
You can find all our previous featured Ribblrs here.
Want to be our next Ribblr of the week and win a special badge?

Send us a message and be our next Ribblr of the week (plus win our special Ribblr of the week gold badge🏅)
---
Hi Camilla! Tell us a little about yourself.
Hey my name is Camilla, I`m a 24-year-old kindergarten student located in Norway. Currently staying at home because of the pandemic, instead of staying in my tiny studio apartment, haha. I have a dog called Falco, he just turned 7 years, love him with all my heart! Not only do I knit and crochet I'm also very into gardening, and in a few years I'm planning to buy a small farm with some animals and start growing more food!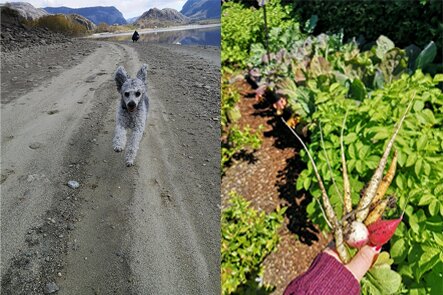 That's amazing! When did you start crafting and how?
I started very young, maybe around when I was 10 years or so. My mom taught me a lot then, but I did not see the joy in knitting at the time. I picked up knitting and crocheting a few times the last 10 years, but it never stuck. Until the pandemic came along. So I've been crocheting the last year and now I'm learning knitting all over again.
And how did you start designing?
I have so many ideas in my head that I just couldn't find online, so I decided to try and design it myself. I`m so bad at writing my ideas down to be honest, I get ideas at times when it's not convenient for me to write them down! Like in the shower or when I'm falling asleep. One day I just decided to go for one of my ideas and that's how my Blue Sky Daisy Cardigan came to life.
Do you have a favorite craft type and if so - why?
My favorite is crochet. I find it a lot easier than knitting at the moment. With crochet you just have that one loop to think about and I think it's a lot easier to put it down and knowing where I was when I pick it up again.
What was the longest project you worked on?
Oh wow do I have a story for you haha. One Christmas I got a lot of yarn and crochet hooks, and a pattern for a blanket. I started making it and it was a lot of fun and I could see progress. Then things got busy with school and work and life in general. So I stopped for a while, then I picked it up again and the same thing happened so I forgot about it again! I picked it up again this Christmas, and I'm still not done! It's now been a little over 5 years since I started that blanket, all I have left is the loose ends and a border around it!

And the shortest one? (excluding frogging!)
The shortest one must be the Bee slippers I found here on Ribblr. I made one slipper in one day, so I had a pair within 2 days!
That's fast! What are you working on right now?
I've recently released my potholders for free on my shop. Right now, I'm working on a knitting project called Maipuffblusen, translated that would be Maypuffblouse.
Which of your makes/designs are you most proud of?
I'm most proud of my Blue Sky Daisy Cardigan. It took me over a month to crochet and put together, a lot of frogging included, but I love it so much, and I'm thinking of making more in different colors and designs!

What inspires you to create/design?
I really like different colors and working more than 1 color into my projects or handcoloured yarn, If I could I would buy yarn all the time, and I would love to color my own yarn. I also get inspired by the different seasons, and of course from other designers and makers!
What is your usual process of designing?
I get a lot of inspiration from Instagram and here on Ribblr, so I look at colors and different designs and mix them all up in my head. Then suddenly I get a burst of ideas and sometimes I remember to write them down. I've started getting better at saving things I like on Instagram so I can look back and actually remember where I got my ideas! After the idea phase, I draw it out, and then I just start making it. That usually ends up with me frogging a lot, but it's a learning process and very often new ideas come to light when actually doing it instead of writing down numbers and so on.
Any favorite song, book or movie you would like to recommend?
I`m really into scary movies, the most recent scary movie I watched that I liked is called Countdown. In the movie they download an app that tells you when you're going to die!
Oh my!
To balance it out, can you share a funny story that happened to your recently?

I managed to convince my mom to join me for a 30 min car ride just to go to a yarn outlet, only to spend way too much money on yarn because one yarn ball was so cheap! Now I have to many projects waiting to happen! I just need to finish my exams…
What is your favorite feature on Ribblr?
I love that you get a video in the patterns if you don't know how to do a stitch! That helped me a lot in the beginning!
Finally, please pay it forward- here's your shoutout to a fellow Ribblr:
I love Knit Safari (@knitsafari) here on Ribblr, she has much I want to make, and probably are going to make in the near future!
Thank you for sharing Camilla!
---
Check out Camilla's shop:
Comment below with your compliments and questions for Camilla