Say hi to Anaïs Rose the designer behind ISABEL By Rose, and our Ribblr of the week!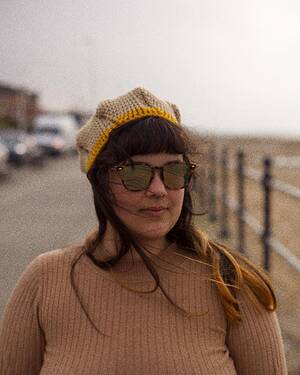 ---
Hi! Tell us a little about yourself.
My name is Anaïs a Rose, I'm 26 yo and I come from Benidorm in Spain but I have been living in the North West of England since 2017, when I moved to work as an Aupair and ended up meeting my husband and having our daughter. I love all things slow life and hygge, rainy days and incense and have a passion for animals and sustainability.
When did you start crafting and how?
I'd say probably 5yo when my mum taught me how to cross stitch, 14 when my nan taught me how to knit and 16 when I bough my first crochet magazine to learn with DVDs (that made me feel old!)
And how did you start designing?
Soon after I started seriously crocheting (while I was pregnant during the pandemic) I found there wasn't patterns for things I wanted to wear so I just went for it and now I love to make my designs come to life.
Do you have a favorite craft type and if so - why?
It has to be fiber art in all forms! I have always been surrounded by my Nan and mum sewing and making big art pieces with fibers, it played a big part in my upbringing.
What was the longest project you worked on?
A blanket for my daughter, a massive granny square blanket which took me months.
And the shortest one? (excluding frogging!)
A Christmas deer garland for my daughter and nephew's 1st Christmas.
What are you currently working on? Be honest - how many WIP do you have right now?
I'm currently working on a new pattern for a balaclava (that looks like knit but it's 100% crochet!). WIPs…. 4 at the moment but I've had way more at the same time in the past!
Which of your makes/designs are you most proud of?
My Freydis Beret!!
What is your usual process of designing?
Usually and idea comes suddenly to my mind, then I go straight into drawing it and then just start crocheting, I'm afraid I have to confess I don't usually gauge because I'm always too excited and just go for it!
What inspires you to create/design?
The desire of bringing new things and make patterns accessible for neurodivergent folks, big instructions block my brain and I don't usually find many simple/concise patterns, also to bring awareness about sustainability, that's why I mainly only use second hand yarn from charity shops.
Any favorite song, book or movie you would like to recommend?

Fauvorite song - Sweet Child O' Mine by Guns n' Roses
Book - The Japanese Lover by Isabel Allende
Movie - I Origins
Share a funny story that happened to your recently
More embarrassing than funny, I went to give back some books to my local library and while I was having a look around a gave my daughter a book I always carry around just in case, and because I didn't want them to think I was going to steal the book while leaving I told the lady it was ours and showed it to her but she though I was giving it and said to my daughter "oh sweetie we will take care of it thank you" so she took it from me and I was so frozen I left and called later to clarify the mistake and just ended up donating the book, looking back it's a funny situation but in the moment I was so frozen!
We'd love to know - what is your favorite feature on Ribblr?
The pattern writing feature, makes designing way easier!
Pay it forward - your shoutout to a fellow Ribblr

It has to be @lisasknitclub, her patterns are lovely and her YouTube videos really make my days!
Thank you for sharing!
---
Want to read more?
Check out all our previous featured Ribblrs here.
Want to be our next Ribblr of the week and earn a special badge?

Send us a message and be our next Ribblr of the week (plus earn our special Ribblr of the week gold badge​)
---