Say hello to Emma (@MadeintheMoment), the designer behind MadeintheMoment, and our Ribblr of the week!
Emma's design, on fire sweater, was voted Pattern of the Month in our December 2021 monthly awards!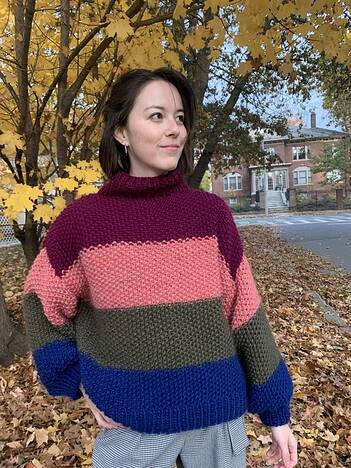 ---
Hello Emma! Please tell us a little about yourself.

Hi, I'm Emma. I'm currently in grad school studying opera and Vocal Pedagogy. Almost any time I'm not in school, I'm working on some crafting project.
How and when did you start crafting?
I first learned how to knit when I was about 10 years old when my grandma taught me but never spent much time doing it. I picked up knitting and crocheting in January of 2021 because I felt the need to create something with my hands during the pandemic. I learned everything from Youtube videos and asking for advice from my one good friend who also crochets.
And how did you start designing?
I kept having ideas for something I wanted to make but then not being able to find a pattern that fit the exact, specific thing that I wanted to make. I started by following patterns and then altering them to fit what I wanted the project to look like. Once I knew a little about how to construct clothes and some basic techniques, that pretty naturally led to designing my own full designs.
That's awesome! Do you have a favorite craft type and if so - why?

At the moment, crochet! I just love the different textures you can get and the ability to just freestyle. I'm also really enjoying knitting although I definitely don't know as many techniques or how to construct garments as well when knitting.
What was the longest project you worked on?
My longest project was the Be Squared Pants by @lunawear! They're pants made with a weight 1 cotton yarn and a 2.5mm hook !!!
They took me about 40 hours to make but were definitely worth it.
And the shortest one? (excluding frogging!)
I made a cute little crochet case for my AirPods that took about 20 minutes from start to finish, including sewing on a button!
What is (or are) your WIP?
I'm always working on at least 5 projects (right now probably closer to like 10) but one of my most recent projects is an On Fire sweater in two shades of pink as a custom order.
Which of your designs are you most proud of, and why?
I'm really proud of my first pattern, the stop f*ing up the earth tote! I spent hours making sure the globe was accurate and all of the letters were evenly spaced and legible. It was such a fun design to perfect and I always enjoy making it and seeing the words and the countries appear as I crochet the rows.
That's a wonderful design! And what is it that inspires you to create and design?
Colors and prints that I see when I'm walking around or watching shows or movies. I'm also inspired by things that people wear that I see in person and on TV/instagram. And a lot of times I take inspiration from a yarn itself- whether that be the color, texture, or a specific color combination.
Do you have a specific process you follow when you're designing?
Whenever I'm feeling inspired to design something I'll sit and draw like 10 different versions of the piece with different fits and designs and color ideas in mind. Usually out of those iterations, there are 1 or 2 ideas that I end up liking and then I just pick up some yarn and a hook and start trying things.
Now time for some pop culture!
What's your favorite music?

Raining in June by Olivia Klugman and I'd Rather Be a Ghost by Semler have been my two most listened to songs this fall/winter.
What is your favorite feature on Ribblr?
I love the way that you can keep track of which part of the pattern you're on and the feature that lets you choose the size you're working on.
That's great!
And finally, Pay it forward - your shoutout to a fellow Ribblr:
Honse Design! (@Honse) I love their emphasis on color and silhouette of the piece.
Thank you for sharing Emma and congrats once more for winning our Pattern of the Month award!
---
---
Want to read more?
Check out all our previous featured Ribblrs here.
Want to be our next Ribblr of the week and earn a special badge?

Send us a message and be our next Ribblr of the week (plus earn our special Ribblr of the week gold badge​)