Say hello to Shenny (@wobbleblobbe), the designer behind wobbleblobbe, and our Ribblr of the week!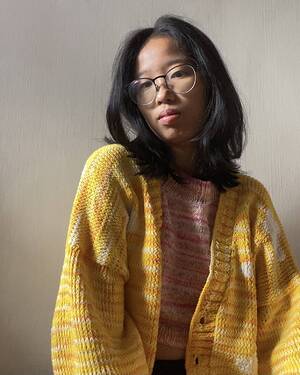 ---
Hi Shenny!
Tell us a little about yourself.
Hi! I'm Shenny, a crafter based in Singapore.
So, when did you start crafting and how?
I learnt how to crochet from my mother and grandma when I was young, but only picked it back up again in 2019. I watched a few videos just for basic techniques and the rest pretty much came naturally from following patterns or just making things on my own.
And how did you start designing?
My first design was a patchwork cardigan, at that time I really just wanted to use up all my scraps and it just went on from there!
Do you have a favorite craft type?
Definitely crochet!
Why Crochet?
I never really felt like an artistic person but crochet was a medium that let me feel like I had control and really achieve my visions of what I want to create.
What was the longest project you worked on?
I don't really take note of how long I take, but every patchwork cardigan takes me anytime from 2-6 weeks. It's so satisfying when it finally comes together!
What is your usual process of designing?
I usually start with a vision of what I want the completed piece to look like, then I'll just pick up some yarn and get going! I don't plan too much with my designs, which means I often have to frog extensively but I just take it as part of the process.
We know the feeling!

What inspires you to create and design?
Honestly it can be anything under the sun. Going out for a walk never fails to give me new ideas to make.
Which of your designs are you most proud of?
The Madelaine vest! It's one of the few times I ventured away from making patchwork related things and I'm so satisfied with the stitch pattern I created.
Time for some pop culture! Any favorite movie, song and book you would like to recommend?
Encanto! Watched it in the cinemas and it was such a heartwarming story. If you watch Taiwanese dramas, also recommend Rainless Love in a Godless Land, I loved the theme and values behind it.
Please lighten our day! Care to share a funny story that happened to you recently?
Not that recent, but there's once where I missed my train stop because I was distracted. So I alighted past my stop and took the train in the opposite direction, and went past my stop again……took me three tries to finally get off at the right stop.
We'd love to know: what is your favorite feature or design on Ribblr?
Love the smart sizing feature! It makes the pattern so much more streamlined.
Finally, pay it forward - your shoutout to a fellow Ribblr

Brenda Made This! Love all the textures she puts into her designs.
Thank you for sharing Shenny!
---
---
Want to read more?
Check out all our previous featured Ribblrs here.
Want to be our next Ribblr of the week and earn a special badge?

Send us a message and be our next Ribblr of the week (plus earn our special Ribblr of the week gold badge​)