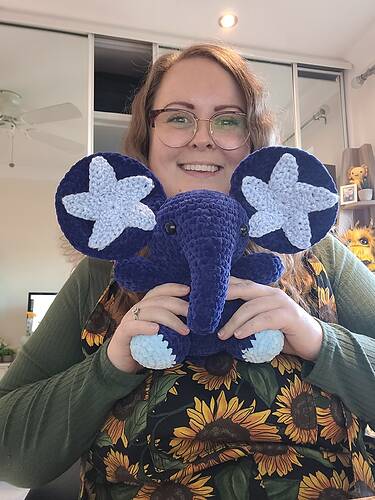 ---
Hey Tasha! Tell us a little about yourself.

Hey there! My name is Tasha and I'm the creator behind Cosy Crochet by Tasha. I'm 32 and live in the south of the UK with my husband and 2 cats.
When did you start crafting and how?
It's funny because up until about a year ago I would have told you that I'm not a creative person! At school I was desperate to be good at art. I'd have this amazing vision in my head of what I wanted to create, then I'd make it and would be terribly disappointed by the outcome. But that all changed in August 2021 when I decided to try crochet after watching a friend streaming her crochet projects. I'd finally found an art form I was good at and I was quite literally hooked!
And how did you start designing?
It started when I wanted to make a crochet cow. I looked at all the available patterns and there were none that I really loved so I decided to try designing my own cow pattern. By this point I'd bought and worked through around 50 other crochet patterns so I had a fairly good understanding about how patterns worked and how to make various shapes. Once I was happy with my cow pattern, I then decided to design it to have sunflowers instead of spots to make it a little bit more unique (plus sunflowers are my favourite flower) and that's how my sunflower cow pattern was born!
That's incredible!
So do you have a favorite craft type? Is it Crochet?
Definitely crochet! I do know how to knit but I find it much harder. Crochet is something which just clicked for me and when I'm crocheting, my brain is able to just focus on the counting and the creative process and all the other stresses of the world just (temporarily) melt away.
What was the longest project you worked on?
I don't actually like long projects very much (proven by the fact I have an unfinished blanket sitting in my office which was a very large project I gave up on!) My longest amigurumi project was a unicorn which had lots of twirly pieces for the hair and it took forever to make all the pieces and then sew it all together!
So how about the shortest one? (excluding frogging!)
I think my shortest projects are probably my hedgehogs which take less than a couple of hours for me to make.
Oh my! We're huge fans of

What are you currently working on? Be honest - how many WIP do you have right now?

I'm currently working on a couple of strawberry bunnies & a slow loris for an upcoming pattern. I usually only have 1 project at a time but this last week has been a weird one where I've not been able to get to my stuffing so I've just been crocheting lots of pieces ready to sew together later!
Which of your designs are you most proud of?
This is tough one but I think my farmer cow is probably the pattern I'm most proud of! The little flowers can be a bit fiddly but I love adding extra details to my creations.
What is your usual process of designing?
Usually it starts with an idea in my head which I then draw (poorly) on my ipad. Then I write up a draft pattern of what I think will be about right. I then follow the first version of the pattern and adjust it as I go. It's usually a very long process filled with me cursing and frogging!
What inspires you to create or design?
All kinds of things! Sometimes it's because I can't find a pattern for that specific thing so I make up my own, sometimes it's just an idea which pops into my head, and other times it's inspiration from other amazing creators on social media.
And now for some pop culture!

Any favorite song, book or movie you would like to recommend?
I absolutely love to read! My favourite couple of books I've read recently are 'Under the whispering door' & 'The house in the cerulean sea' by T.J.Klune. Music-wise, my favourite song at the moment has to be 'Here's a health' by The Longest Johns. I know folk music/ sea shanties aren't for everyone but I absolutely love them!
Care to make us all laugh?
Share a funny story that happened to you recently!
My sister came to stay with us a couple of weeks ago (she lives in Sweden with her husband) and we decided to sit outside and light our firepit and have a BBQ. All was going beautifully until the British weather decided it had other ideas and started tipping it down with rain. Luckily we had our gazebo up so we huddled under it in defiance of the weather and laughed our way through the evening (even though we frequently had rain water dripping down our backs!)
UK vibes here! We get you.

What is your favorite feature on Ribblr?
As a creator, the ability to open up any pattern wherever I am (and have it remember where I'm up to!) is my absolute favourite thing about Ribblr.
As a designer, I love how easy it is to build my patterns on Ribblr (and how easy it is to edit them if a mistake is spotted!)
Lastly - Pay it forward - your shoutout to a fellow Ribblr
Pennypal Creations (@Pennypals) has the most gorgeous patterns, you definitely check them out!
Awesome! Thank you so much for sharing
---
Find all our previous featured Ribblrs here.
Want to be our next Ribblr of the week and earn a special badge?

Send us a message and be our next Ribblr of the week (plus earn our special Ribblr of the week gold badge​)