Say hello to Jess (@hookedME) the designer behind hookedME, and our Ribblr of the week!
---
Hi! Tell us a little about yourself.
Hi! My name is Jess. I am 29 years old and live in Massachusetts with my husband and our kitties!
When did you start crafting and how?
I have always been into crafts. I have a very large extended family and love to hand make little gifts each year. My love for crochet really started four years, I have anxiety and depression and didn't really have any hobbies. I had always wanted to crochet but every time I tried I did not succeed. I decided to give it one last try and thankfully it stuck!
And how did you start designing?
After 3 years of crocheting I had started free handing things I couldn't quite find a pattern for. I then set a goal to release my first pattern on January 1, 2021 and got to work. Since then I have released 10 total patterns!
That's awesome! Do you have a favorite craft type and if so - why?
Crochet by far. I always feel so accomplished when I finish a project and it brings me joy to be able to see something take shape so quickly in my hands.
What was the longest project you worked on?
I did a pattern test for an elephant amigurumi one time. I didn't realize just how big it was going into it. It turned out to be MASSIVE. It was made with worsted weight yarn and ended up being over a foot tall. It took me such a long time to finish. I ended up raffling the finished item off and raised $1205 to donate to the Elephant Sanctuary in Tennessee!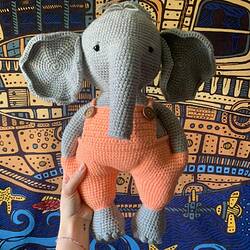 That is superb!
What are you currently working on? Be honest - how many WIP do you have right now?

I am currently working on an off white version of the #happyscrappyCAL which is a crochet along I am hosting here on Ribblr! The idea of it is to use up your scraps, so I have one blanket I'm doing that with as well as trying to play catch up with a solid version. As for WIP's… I only have 2, BUT I have 6 projects I have started and lost motivation for which I probably won't pick back up, ever, but have yet to frog.
Which of your designs are you most proud of?
I am very proud of The Maggie Bag & The Rosie Bag! Both of them hold such a special meaning to me I love that they are a design that is useful in daily life!
What is your usual process of designing?
I am definitely not the kind of person who draws things up and plans them. Once an idea pops into my head I will get straight to work on it. As I go I will write down what I have done. It's a lot of frogging. Then once it's completed I look at all my notes and try to decipher what it was I actually did - it's usually a lot of squinting to try to read through the scribbles.
What inspires you to create and design?
The crochet community inspires me every day. I love seeing what everyone is making and it really motivates me to also make! I take inspiration for my designs from the seasons,
OK- time for some pop culture!
Any favorite movie you would like to recommend?
My all time favorite movie is Paterson! My husband actually took me to the waterfall in the movie a few years back.
Share a funny or interesting story that happened to you recently
Not that recent, but this summer we went on a camping trip with some friends. We decided to tube down the river, but couldn't find a spot to park the car. We took instructions from a random passerby and parked our car at a school parking lot. We got in the river and what should have been an hour or two, turned into around 4. We passed exit point after exit point but there was no end in sight for us. We ended up having to walk through parts of the river and finally managed to get to land, but then had to walk about 20 minutes down the side of the road with our tubes in our bathing suits until we finally got back to the car. Definitely an adventure.
Sounds like quite an adventure!

We'd love to know: what is your favorite feature on Ribblr?
As a designer: I love being able to upload a video/picture right into the pattern on the exact line. In my written patterns I try to keep all the pictures on the end pages.
As a crocheter: I really love how it converts UK to US and US to UK terms for you. I am absolutely terrible when it comes to trying to covert a pattern written in UK terms, so I usually end up skipping them. I don't have to do that with Ribblr!
Finally, pay it forward - your shoutout to a fellow Ribblr

Drewbies Zoo! (@drewbieszoo) When I first started on Ribblr I reached out to Drew and he was so helpful and encouraging. His patterns are all SO adorable.
Thank you for sharing Jess!
---
Check out the hookedME shop
---
Want to read more?
Check out all our previous featured Ribblrs here.
Want to be our next Ribblr of the week and earn a special badge?

Send us a message and be our next Ribblr of the week (plus earn our special Ribblr of the week gold badge​)