Say hello to Savannah (@savannahstitches) the designer behind Savannah's Stitches, and our Ribblr of the week!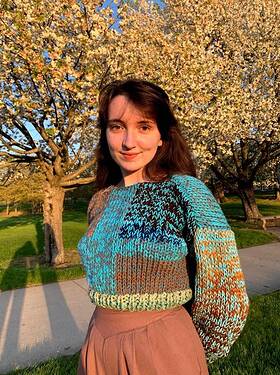 ---
Hi Savannah! Tell us a little about you.
Hi! I'm Savannah, a fiber artist based in the US. When I'm not crocheting, you can find me studying history at college or trying to pet stray cats.
When did you start crafting and how?
In July of 2020, I had some downtime inbetween my senior year of high school and my first year of college, so I picked up crocheting. I watched dozens of YouTube and TikTok tutorials to figure out how to make the infamous Harry Styles cardigan, but I didn't know how to read a pattern (or what a pattern was), so I made some squares and figured out everything else on my own!
And how did you start designing?
I was unintentionally designing from the beginning, since I didn't know how to read a pattern! After I learned how to read a pattern, I figured out that I could make practically anything if I could sew some panels together, so I began designing things that fit into my personal style. Thankfully, it seems that a lot of others share my personal style preferences!
Do you have a favorite craft type and if so - why?
I like the motions of knitting better, but I think crocheting will always be my favorite. The logistics of it make more sense in my head, and frogging is so much more devastating in knitting than crochet!
What was the longest project you worked on?
I've made two cat blankets that probably took around 60-80 hours each! I used size 4 yarn, but the sheer amount of color changes bogged me down. My first cat blanket was made from the first ever written pattern I used, and it was the first Instagram post of mine that got big– I remember telling my brother that it had 600 likes at one point, which was more than five times my following at the time!
And the shortest one? (excluding frogging!)
If I'm ever in the need for a quick present, I can make a scrunchie in 20 minutes flat.
What are you currently working on? Be honest - how many WIP do you have right now?

I have about five WIPs right now, but it's less overwhelming than it sounds! I usually have one main project and a couple other projects that are patchwork, so I can make squares mindlessly when I have a spare 15 minutes. My main WIP is a design for my upcoming book which comes out Fall 2023! It's inspired by spring, which is my favorite season.
Which of your designs are you most proud of?
The original Solar Flares! They were my longest project at the time, not considering the cat blankets. I'm super proud of how I figured out the measurements, and that I was able to turn it into a pattern.
What is your usual process of designing?
I'm usually inspired by elements of clothing – for example, you'll see me use a lot of patchwork squares, flares, or tie-waists in my designs. From there, I usually try to apply it to a piece of clothing I've always wanted to incorporate into my personal wardrobe; for example, I combined patchwork and flares for the Solar Flares. I make the sample piece according to my measurements, and then if people like it enough, I make a pattern!
What inspires you to design?
I'm very encouraged by those who follow me and those in my personal life who love my work! As with most of my designs that people love, I hate it while I'm making it; I thought no one was going to like my original Floweralls, but my mom telling me that she liked the lavender I was using made me feel better about it. I'm also motivated by seeing how happy people are when they wear clothing that's made for them. You don't think it would affect your confidence that much, but when you haven't worn anything that truly fits you in the way you like before, it's revolutionary.
Time for some pop culture! Any favorite song, book or movie you would like to recommend?
I'm always advocating for everyone to listen to as much Taylor Swift as possible! For a combined book and movie: Emma by Jane Austen and its 2020 movie adaptation (with Anya-Taylor Joy in the title role!) are perfect.
Share a funny story or interesting that happened to you recently.
One of my old friends from high school messaged me that she saw someone wearing my cardigan in a Trader Joe's near her! I'm a big fan of the-world-is-smaller-than-we-think moments like that.
That's awesome!
What is your favorite feature on Ribblr?
I love that you can keep track of your progress through the pattern and see just one size at a time – makes reading much more simple for those of us who get overwhelmed easily!
Pay it forward - your shoutout to a fellow Ribblr

@AlaskaCrochet was one of my supporters from the very beginning, and her cat sweater design (which was inspired by my cat blanket, and then I tested her pattern) helped launch my own account! She's so kind, and very funny – I highly recommend a follow and a pattern purchase (or two) from her.
Thank you for sharing Savannah!
---
---
Want to read more?
Check out all our previous featured Ribblrs here.
Want to be our next Ribblr of the week and earn a special badge?

Send us a message and be our next Ribblr of the week (plus earn our special Ribblr of the week gold badge​)