I wanted to learn how to knit because right now I only crochet. Is it more difficult to knit than crochet?
That's me!!!
I know how to knit and just started learning to crochet. All I know is there are two stitches in knitting, the knit and purl stitches, the rest is how you manipulate them. In crochet there seems to be an endless amount of stitches!
I hope I can actually learn more about crochet than the little I have already learned.
You can if:
you want to
you persist
you practice
This is definitely the place to learn. I love the little videos on the abbreviations that show you what it is and how it's done. And always, if you have questions …
You forgot to add you do not give in! That's me
I can be very stubborn, I mean determined!
Well, i meant that with "persist". But, go ahead and be stubborn!
Being stubborn, can be a good thing, it depends upon what you refuse to stand down from.
Nowadays, it has a negative flair to it.
The videos are a lifesaver for me. It's so easy for me to refresh my memory instead of hunting for an accurate video on YouTube.
I know I can ask questions here and will get a lot of help, which is awesome as I don't know anyone who can crochet that lives anywhere near me.
I made your dishcloth and I'm glad I did. At the beginning I couldn't tell which stitch I needed to do by looking at the row below it, but by the end I knew by looking which stitch I needed. Thank you for a well-written pattern that was easy for me to understand.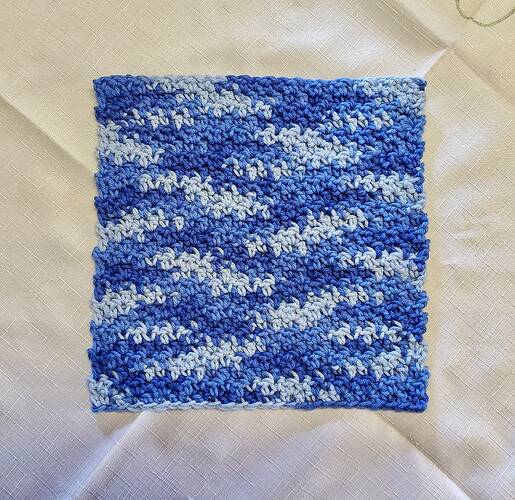 Yea!!! You girls rock!

That's true, but I meant it in a good way.
yes it is. i used to do it but it was difficult so all i made was hats and shoes. the different stitch patterns are super difficult to learn too.
Awesome. Thanks for sharing!
I've crocheted my whole Iife and recently decided to learn how to knit. I find that I'm holding the yarn and my work in my left had and doing all the hand motions with just my right hand. It feels like crocheting with two hooks!!
@BigRedKitty
I'd be interested in any tutorials that you may have learned from that taught you how to do it that way. I might be able to wing knitting if I tried that.
I watched several YouTube videos but what really helped me was the people at my local yarn group. Plus, just playing around until I felt comfortable with the needles. My hands still get a little sore from knitting because it's using muscles that you don't normally use for crochet. I recommend finding someone local that can sit down with you.
Pfff thats me but with knitting, just got some knitting needles and I'm struggling xd how do people make epic clothing??? Its like magic how good people are 0-0