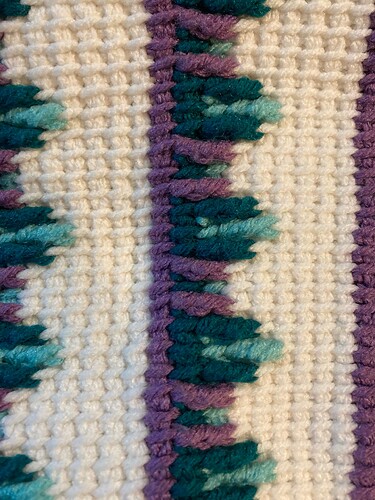 Edit: New question for this Blanket, see comments below there will be a new picture of it.Thanks!
Hi all!
I have been charged with piercing together some blankets for a friends Grandma's dying of cancer. One of her last wishes is for her projects for grandkids to get finished. She has several unfinished blankets with no patterns and the story is that she mostly makes them up.
I am a knitter with crochet experience and a little Tunisian under my belt.
Does this stitch pattern look familiar to anyone and can you point me to instructions for it? Some of the panels for this blanket need finished, I could simplify it and make it work but thought if I can stick to the original I should try.
Thank you! And stay tuned as I may have more questions. We also have to puzzle out the order pieces are meant to be put together!