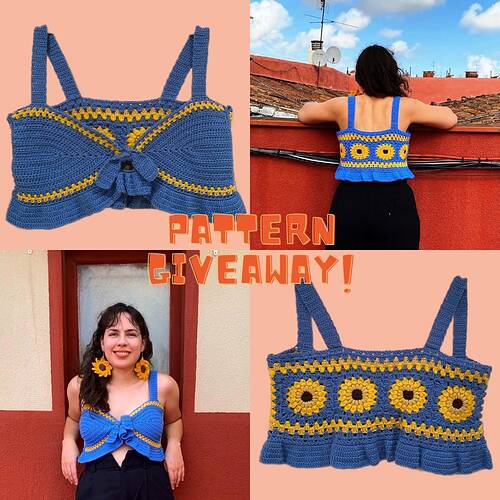 Hello, all! I'm excited to announce that I'm doing a pattern giveaway for the Here Comes the Sunflower top, which will be released January 18th on Ribblr!
If you are interested in participating in the giveaway, you can do so here or check out my latest post on my Instagram (@rollingyarncrochet)!
In order to receive the pattern, you will need a Ribblr account as this is a digital pattern released on Ribblr ONLY.⁠
⁠
To participate through Instagram:⁠

follow my Instagram account (@rollingyarncrochet)

like and save the giveaway post⁠ on IG

in the comments, tag crochet friends that you think will love this pattern!⁠

For an extra entry, you can share this post in your story on IG. Remember to tag me on the story so I can see it!⁠
To participate through Ribblr:

like this post

post a comment in this post, and tell me what color you would make the top if you won
⁠
You can participate in both Ribblr and IG for double the chances!
There will be 2 winners picked randomly! The winners will receive a copy of the digital pattern on Ribblr.⁠
⁠
The giveaway ends on Monday January 16 at 10pm (EST).⁠
⁠
The winners will be announced on January 17th at 10pm (EST) on my IG stories and on this post and the winners will be privately messaged as well. Note that I will only message the winners from this account!! Don't trust any messages you may get from any other account.⁠
⁠
Good luck, everyone!⁠
⁠
This giveaway is not affiliated or sponsored.⁠