I need testers for my flower power granny square bag - Crochet ePattern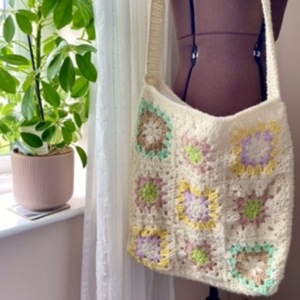 Hey Welcome to Ribblr!!
Welcome
It's beautiful!
What are your requirements?
Aka time frame etc?
Hi I would like to test this pattern do you have a day you would like to have this done.
this is so pretty!!! i would love to test!
welcome to ribblr! i'd love to test for you
I would love to test your pattern
I would love to test this for you its super cute!
Welcome to Ribblr
Your bag is so pretty
Super chill, there's no stress about getting it done by a certain time, just whenever you can get it done!
Just really within the next month!
welcome to ribblr, i would love to test your pattern it looks great! is there a time limit you would need it done for?
I'd love to test if you're still looking for testers 🫶🏻
Welcome to ribblr​
I currently have enough testers now so this testing call is closed! I have new patterns coming soon that I'll also be looking testers for though!
I put closed in the header for you
Thank you so much!!! I was trying to figure out how to do this but couldn't find the correct settings!!
I discovered only advanced users can change the headings.