We need testers for @AceAth3na101 Lil' Mushroom Dude overalls and pinafore - Crochet ePattern
Click pattern photo to apply: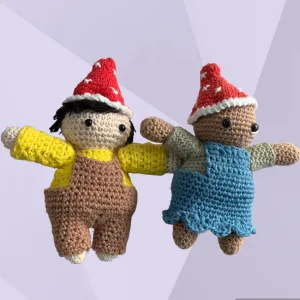 Thank you for taking the time to look at our latest pattern test call out. We are looking for 3 people to test this pattern. Crocheters of different abilities will be considered. The pattern is designed to fit the dolls from this pattern Lil Mushroom Dude base doll: Crochet pattern | Ribblr
What we hope you will look for are any inconsistencies, errors in spelling/grammar (we are UK based, so use English spelling and UK pattern formats), checking stitch counts are correct ect, check that instructions are clear and easy to use.
We ask that all testers use the journals for documenting their progress, yarn substitutes and feedback. Please note that pattern edits/suggestions should be directed via instant message and not in journals.
There is a 4 week turnaround on this pattern, so only apply if you know you can complete it in that timeframe. Yarn subs are accepted for this pattern but please let us know what you are planning to use. Yarn sub amounts may be different from the amounts recommended in the pattern and obviously the size of the dragon will vary depending on the yarn you use.