I need testers for my Breeze Over Greenore - Crochet ePattern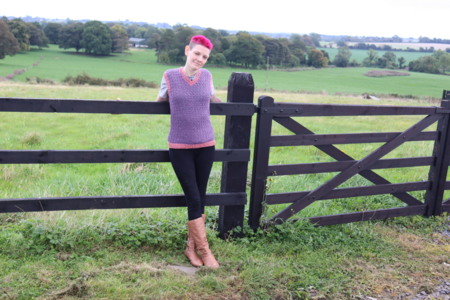 This is a gender neutral sleeveless pullover for people of any pronouns.
Today it headed off to the tech editor, and I plan to start the test on the 1st Feb once tech editing is complete.
I am starting recruitment of testers now, as I really don't want to skimp on testing for this pattern, and hope to get at least 2 testers for each of the 9 sizes.
I am also looking for testers within Ribblr, as well as testers who will test the PDF versions, including the standard pdf and the accessible pdf in large print without abbreviations, formatted for screen readers. (Note, ribblr already has most of those features, so if you are seeing this tester call inside Ribblr then testing the Ribblr version is probably most suitable for you)
Sizes available - I will edit the post as this changes:
XS - 30-32 inch chest - 2 needed
S - 34-36 - 2 needed
M - 38-40 - 2 needed
L - 42-44 -2 needed
XL -46-48 - 2 needed
2XL - 50-52 - 2 needed
3XL - 54 - 56 - 2 needed
4XL - 58-60 - 2 needed
5XL = 62-64 - 2 needed
Materials required: Double Knit (light worsted) yarn. Pattern sample in Drops Belle. Uses 10 to20 balls, depending on size. darning needle, a box full of stitch markers, and a tape measure. 3.5 mm hook and 4mm hook, or size to match guage.
Testing will start on about the 1st Feb, and end on the 1st April (slightly flexible)
Communication:
To take part in this test you MUST be willing to join the testing Facebook group and update there at least once a week. An update of 'not done anything this week' is fine, if I don't hear at all from any tester for over a week they will be removed.
Skill level required: Intermediate (adventurous beginner might cope)
The pattern uses a band of front post/back post stitches, and the main body is worked in Angled Blocks, which is like C2C stitch worked in straight rows, so its quite easy. If you have worked a front post back post rib and worked any shaping before, there should be nothing in this pattern to challenge you. If you haven't, you should still be able to follow along with the help of the photos and videos.
Expectations.
You will create a guage swatch, and put it through the laundry to check for shrinkage. You will be given access to the main pattern AFTER this step is complete.
You will make a Ribblr journal OR a Rav project page (if you can do both, that's a bonus)
I would also ask, if possible:
You will post your finished pullover on social media of your choice, i.e, twitter, instagram, etc.
you will give permission for your photos (work in progress or finished) to be used in instagram posts or blog posts (specific permission would be sought)
you can provide at least one photo of the finished pullover being worn.
If you are interested, please reply below, including the following commitment:
"Yes, I will make a guage swatch. Sheesh! But do I also have to sew in all my ends?'
Many thanks for reading this far!