I need testers for my Mellow the bucket hat - Crochet ePattern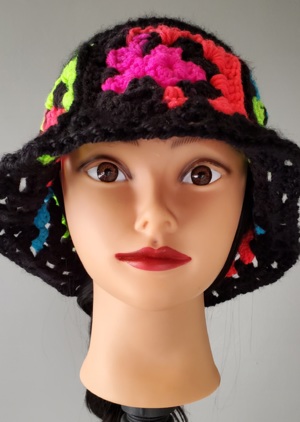 I would love to test it out for you
Totally interested to try it out
I would be happy to test it out if you still need testers!
Great. Thank you
Ok, 3 for 3. Thanks a bunch
I would love to test you Mellow the bucket hat!
I've made adjustments and would love for you to give the pattern another try
Hello dear, I've made the adjustments and have added you as a tester for this pattern
Did you use Red Heart Neon Stripe for this?
Sure did. I just loved the way the granny squares turned put. Have you used it for any projects?
I felt like I knew those colours. I've used a jumbo skein for a yarn bag and another one for a test pattern of a shoulder bag. and small throw blanket to go with a cat couch I'm making.
Ooh ok. You put those neon stripes to work! And I know all 3 turned out so nice
Yay! I will get started on it tomorrow if ok? Got a sinus infection and today is the worst.
. When due date and I'll look at all notes
if haven't been changed already.
No worries love. Hope you feel better soon. Give the pattern a try at your earliest convenience and let me know what you think