I need testers for my Poppy The Pig - Crochet ePattern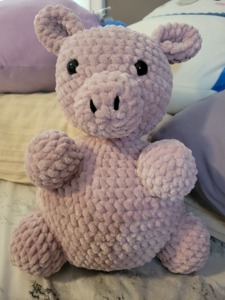 I'm looking for 1 tester in each type of yarn, blanket, chunky chenille, worsted, and anything below (or above) that. I'm hoping to see how this comes out in all sorts of yarn.
Couple of things to keep in mind:
This took 1 skein of Loops and Thread Chenille Home Slim (approx. 200m/210yds)
Took me about 7 hours but that's also while I was handwriting a pattern, I expect 5 is more reasonable without going back and forth making edits.
Timeline is 2 weeks, meaning I'll choose testers on the 16th and it needs to be done by the 30th
Make sure you convey any issues or concerns you have with any parts of the pattern, I'm very active on Ribblr so if you see anything that's confusing or have any comments please let me know.
Agree to make a Ribblr journal of your creation!
How to apply:
Leave me a link to any examples of your work, this can be through Ribblr or Instagram!
Let me know which of your yarn choice you would like, and a backup if you would still like to participate regardless of if your first choice gets filled.
All testers will be gifted the final pattern for all their hard work when it's published on Ribblr following the testing period. <3
Let me know if you have any questions!