(CLOSED)

need testers for my Smiley's little chick **- Crochet ePattern
Click pattern photo to apply: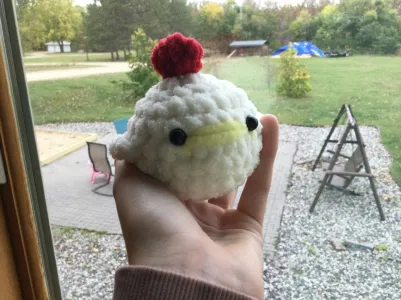 due date?
sweetness! i have to change up my work schedule this upcoming week, so just making sure!
Omg so cute I love him!! I could totaly whip that up verry quickly.
If you choose me I could probably have it done by tonight
Adorableeeeeeeeee I'm def gonna test!
I can make that in 15 minutes! When are you picking testers?
Hello, please don't forget to add information and requirements regarding your testing.
For example:
Number of testers.
Date: when are you going to choose your testers and the due date for the project.
Journal: no journal or whether a journal is required.
Yarn: If you prefer your testers to use a certain type of yarn color, size or non at all.
Hook size: prefer certain hook size or non at all.
Communication?
Are you looking for errors from your pattern that you might have missed? Is the patten easy to follow? Is there any part of the pattern that seems confusing? Etc. These are some of the things you can add, but of course I might have missed some. But just add the things you are looking to get from this testing. I hope these helps!
Sweet I wanna test it
What are the yarn requirements? I don't have red fluffy yarn
Any yarn is fine with me! Would love to see it with different weight yarns!!
Ok thanks! I'll start today or tomorrow