I need testers for my Twisty Turtle - Crochet ePattern
Click pattern photo to apply: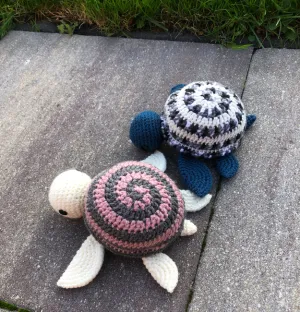 I'm looking for a few testers for this no-sew turtle! Depending on how many people reply, I might choose them between 30th September and 3rd October.
This is an intermediate pattern, and I don't recommend it for beginners since we'll be working in an unusual way compared to how you normally crochet in the round.
This will be a paid pattern when it releases.
What I expect from you as a tester:
Post a photo of the finished make in a journal

Point out flaws in the pattern and keep an open line of communication in the tester chat

Be able to finish the pattern before the deadline/due date; 15th October

That you know when you apply that you will have time to finish it!

That you use stitch markers (of any kind)
Not finishing the pattern/not communicating can mean that you won't be chosen to do more tests!
You can use whatever colors, yarn and hook size you like, but for this pattern you want to use a hook that is 1-2 hook sizes smaller than is recommended on the yarn label!
I used aran weight yarn and a 3 mm hook for mine.
There's also a tester call up for "Twisty Baby Turtle"! You can, of course, apply to both if you know you'll have the time to finish them!
Please let me know if you have any questions!