Hello everyone, I hope everyone is having a great day! I need some testers for my crochet Panda pattern, I would recommend this for advanced beginners or intermediate since you need a small crochet hook. Feel free to mix up the colors with the panda also!
You'll need:
2.75 mm crochet hook
Black, white, and pink acrylic yarn (or whatever colors you like)
Stitch markers
Safety eyes
Stuffing
Tapestry needle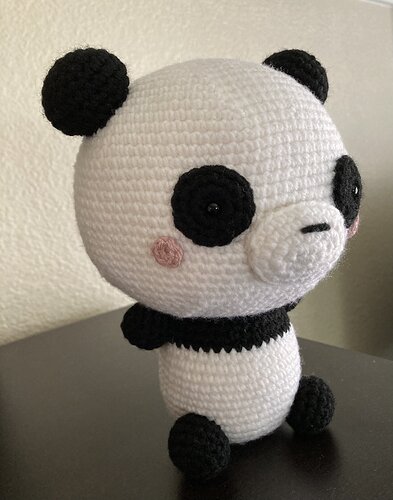 The testing will begin July 25th and end August 8th. I will be accepting testers until August 1st, after the 1st I will no longer be accepting any testers. I would like to have at least 5 testers, but more are always welcomed! Depending on when you sign up, you will have 1-2 weeks to complete, which is plenty of time, it took me about 3 days to complete! I will send a private message with more details when you sign up! You must complete the testing on time, inform me of any mistakes/misspellings found in the pattern, and send me pictures of the finished Panda. If you want to test, please leave what skill level you are at (beginner, intermediate, advanced) all levels are accepted, I just want to see how the panda looks at different skill levels. Thank you to all those who want to help out
Want to name the Panda?

I still haven't figured out a name for my panda if anyone has any ideas for names I would love to hear!!