Aw they're adorable! The bottom one reminds me of a cat I had I called Rags. I was walking to middle school and found her in a trash can. I hid her in my jacket almost all day at school. But my favorite teacher, my science teacher, wised up to me! He took the kitty and said he'd take care of her until I can pick her up after school.
That kitty followed me everywhere.
Aww, she sounds really sweet! The bottom one is Nebula, a tiny 6.5 pound lady. We adopted her from the shelter when she was 7 months, and only 4.2 pounds. She was just skin and bones, and I guess not eating well for so long probably stunted her growth. She screams for attention, hates to be picked up but loves pets.
Nova (black cat) was a singleton stray brought to the shelter, so he grew up without a mom or siblings and doesn't always know that other cats might not want to snuggle or wrestle. He loves being picked up and snuggled, but also loves to steal food, or anything that could potentially be food. He's a brat but I love him. He also has a hilarious unrequited love for Nebula, he loves her so much but she doesn't like him as much back. She will sometimes tolerate a little snuggling or grooming, but sometimes the poor lady just wants to be left alone.
I think your story illustrates very well the importance that fostering cats play in their eventual ability to interact with humans and other cats in a positive way.
Cats have always been a part of our family. House pets, barn protectors & the occasional stray that decided our place was as good as any to settle down. We only have Sophie now. She's a spry 15 year old that chose my husband as her human when he was working on a job site.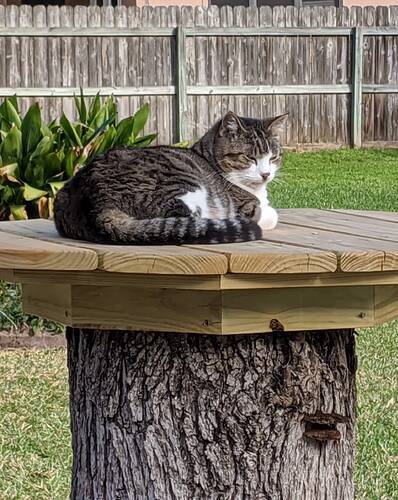 And he brought her home! The cats choose us don't they?
Lol let me try again
Aww this is so adorableee
Here are the cats I have with my boyfriend
Mitza:

And this is Cleo: (everyone, even the vet thought he was a girl but nope lol)

I will share this in memory of Tomitză (to mi ts uh), a cat my bf had before me and never came back home. We think he either had kittens or was beaten. (He always fought others and always lost)

And my cats from back home:
Cirica

Cirica And Ciricu, the sister and brother (yes very inspired xD)
Found a picture of everyone (Chica, ciricu and Momo) except Cirica

And this one is in memory of my Momo who passed away recently and i still feel like it's my fault

These are just some adorable photos i have to share

Oh i got distracted lol
I miss my cats
Love the bathtub one! Sorry you feel bad about the one that feels like it's your fault. That's a bitter burden to bear.
Omg he looks so mcuh like himm
Yeah
It wasn't, i'm aware. He passed away of natural clauses (he was over 12 yo and he never went to the vet - grannies think animals don't need it - and probably had health problems). I still feel like it's my fault because i didn't gather money to sneak him to a vet
adorable! such beautiful coats on the both of them!
please tell sophie that i love her! senior cats are wonderful! my senior, lucy, passed away at 18 in june. she was a funny little lady! super talkative lol
these are my babies!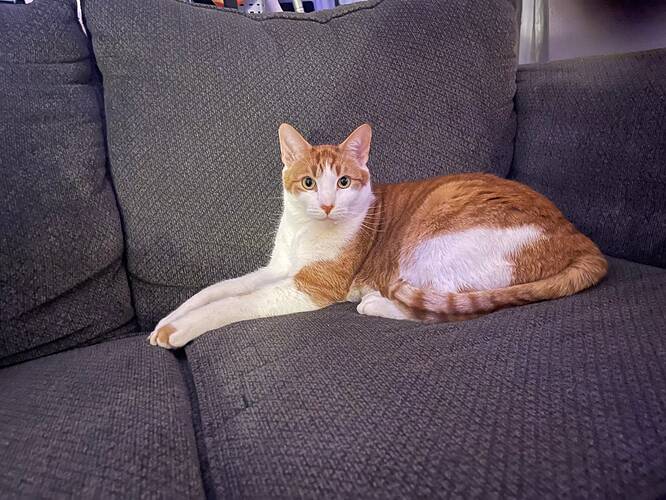 frankie, he's a 3 yr old not very bright kitty. when we first got him as a kitten we all thought he was a female but a couple weeks later it turned out he was a boy​
he plays fetch with pompoms and love to be pet! for the longest time, he only squeaked instead of meowed and he just figured out how to meow and now he's making it everybody else problem lol! he's very loud now that he can make proper noise
this is georgette aka keeks! in this picture, she was mid-yawn lol. she's 4 yrs old and a bit brighter than her brother but she's sassy! when she was a kitten, my mother, my aunt, my uncle and i hid her from my grandparents for two weeks in my room (we all live together). one day she found her way to the bottom of the stairs and started meowing but luckily nobody heard it! she is now loved and living around everybody!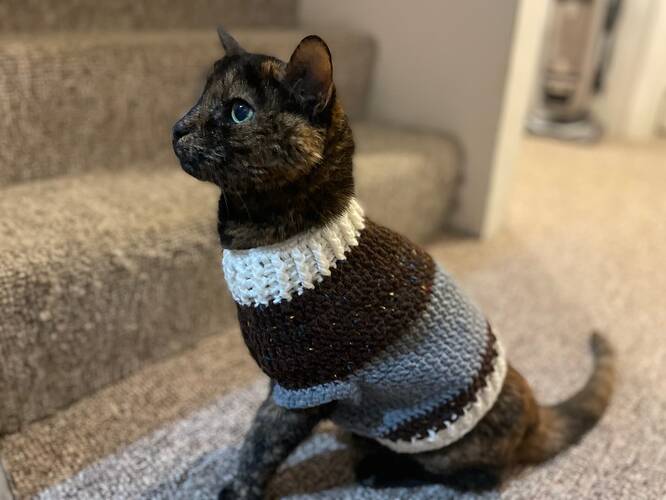 this is lucy. she was put down in june because of major health problems, but she was loved every minute of her life! she was 18 years old when she passed. she was a spunky lady who was quite the chatterbox! she meowed at every opportunity she got! in the picture she was wearing he sweater i made her, which is now kept in my grandmothers room
Your story of your cats made me chuckle. Thanks for sharing! @avaf0gg