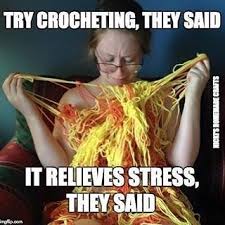 Every time I feel motivated to start, this happens and it ruins the mood
You know, I had that too when I started. But once i switched to a ribbon type of yarn with viscose-that's when I started rocking it.
every time!
Crocheting is substituting one stress with another stress
@efrezell Here are some suggestions when pulling yarn. I hope they are helpful

When you buy a skein of yarn, look for the piece of yarn tuck in the end. Your beginning yarn is on the opposite side. If you stick your fingers in both ends, you will see one end is looser then the other. The looser end is where you will find your beginning yarn.

Now finding that piece is a challenge and probably will led to yarn vomit. Stick your finger inside and try to find the loose end. You can pull the yarn wider when looking. Or you can put your finger in the beginning of the yarn swirl. Move your finger until you get to the middle. Make it wider as you go along so you can see inside better. When you find the loose end, pull it out (here is where the yarn vomit comes in). Start from the strand closet to the skein and gently pull the excess yarn straight till you get to the end. There may be knots, so be gentle. When done, you have a center pull for your yarn.

Or you can invest in a yarn baller (start about $20). Wind your yarn and you have a cake of yarn with a center pull… I usually wait till my yarn flattens out until I use my yarn baller., Personal choice
I hope these suggestions are helpful
They are super helpful, I always knew there was a way to do it, but i always forget
Thanks for posting this, I've been managing to pull this off somewhat (certainly not as methodically as you described), but I've been questioning whether I'm doing it right
I just had a thought, reading your suggestions. I wonder could you wooden it enough, so we to turn it inside out? Then you would use the end that was originally on the outside, but it would now be on the inside?