UPDATE- TESTING is closed but pattern will be available for free very soon. Thanks all!
I need testers for my Tiny Candy Corn - Crochet ePattern
Click pattern photo to apply: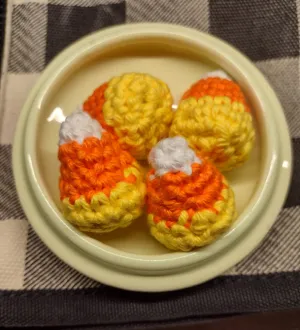 Use any type or color of yarn you like. Pattern will be available for free to all shop followers at conclusion of testing, so the first 3 testers to finish the project may choose any one paid pattern from my shop as the thank you gift for testing (if desired).
I'll accept all testers who apply, please complete the test and post your finished project pictures within a couple of days. It only takes half an hour or less to stitch up. Testing will end after at least two projects have been completed. Then the pattern will be available for free in my shop to followers.
Social media shares and links to my shop are always appreciated but not required.
Thanks for considering testing for me!