weird but how does everybody keep their desks so clean
mine is such a mess lol
So I'm currently organizing mine rn but all I do is make piles of stuff and make sure everything has a place, I only keep the most important things for my business and stuff at my desk and have organizers and put the rest of the stuff in boxes and put those boxes in easily accessible places so when I'm working on a project and need something from a box I take out the box. Then I always just put stuff back in their box or in their place in my desk lol
My stuff was currently super messy lol but it really is just training yourself and being diligent in wanting it to be clean trust me
Dont worry to be honest my desk is a mess too…! I find organization hard, but im trying my best
Yeah it's just making it a habit I guess lol it takes a lil bit of extra time but it is totally worth it
I don't have much space either haha I put the boxes under my dresser lol
I would suggest, to start, by putting things in categories! All pencils, all papers, all specific items in little boxes or containers. That may help : ) good luck!
Yeah my desk has a lot of stuff on it too even if I organize it and when I organize it it becomes messy in less than a day
What I'd do is go thru ur drawers and see if you can get rid of some stuff you don't use, and take a look at the stuff on your desk (it's super cute btw) and put the stuff you don't use too often in a drawer!
Uhm. That is an organised space. Very much. I personally call it a win if I can find some space to work on. But we're two ADHD people and two chaotic cats at home so, it's probably worse than the average space
Also this is a suggestion for everyone sorry i replied to just one person im not very used to typing on this app lol ;v;
Really all I'd do is put the boxes of thread in a drawer idk lol it's all up to you! Also keeping uniform things together makes it look super nice and aestheticly pleasing
So like the pens together(closer) any stuffies together and stuff!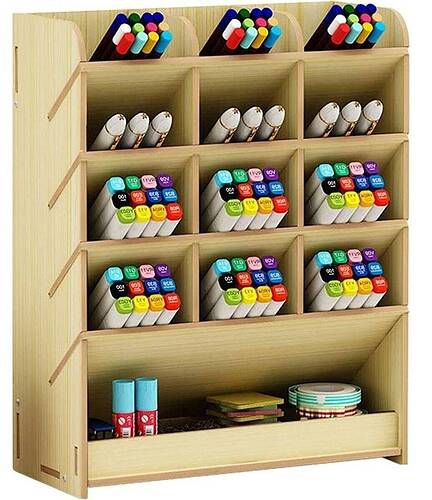 Well, if f you want a more organised look, you can pick something vertical and in grid form. The picture I have is from a small craftsman here but I'm sure you can find a similar alternative
BRO THATS SO CLEAN WHST??mines such a mess lol
Oh i forgot to say, side note-- but i like the the things on your desk, theyre really cute! Is that an orange sea creature i see?
: D
ye its an orange crab lol
mine is messy too!! I'm always dumping things on it, be it yarn scraps, hooks or even plushies…
I can't even get to mine. The floor around it is piled with stuff and across the surface it's completely full. Probably should do something about that but there's always something more interesting to do