What do you guys do with your yarn scraps? I'm curious to know
I usually make small projects fit for the yarn scraps or let it until i need it for some small parts or use it as stuffing too, that's all.
Depends on the length. Shorter ones I put in a bag for embroidery on Amigurumi. And longer I roll up to be used for other projects
I use them for stuffing.
But at times if I have a longer black yarn scrap I will use it for embroidery.
Stuff them in amigurumi, usually hide my tails inside too.
If they're small I use for stuffing, if they're long enough I either use them to embroider or sew into an amigurumi
I use them for stuffing sometimes though if it is black or pink I use for blush or a smile
I use for stuffing toys. I found that cutting them into 1-2 inch strips makes them more fluffy- like polyfil.
I keep it a jar it looks so aesthetically pleasing
Smaller scraps i use to stuff amigurumi. Bigger ones i do mini makes like easter baskets, eggs, appliques, mini xmas stockings etc. Stash buster ideas online normally inspire me
I use my scraps and odds and ends to make random acts of crochet kindness.
If they are super small and unusable for a project I collect them and use them as partial stuffing in a project. If there's enough for a scrap yarn project I do that! But that would probably qualify as more if a leftover yarn project lol
The smallest I'm collecting to card & spin one of these days.
Any two inch or longer from sewing in ends I make into a magic ball.
I started a Cardigan with some and finished some mittens the other day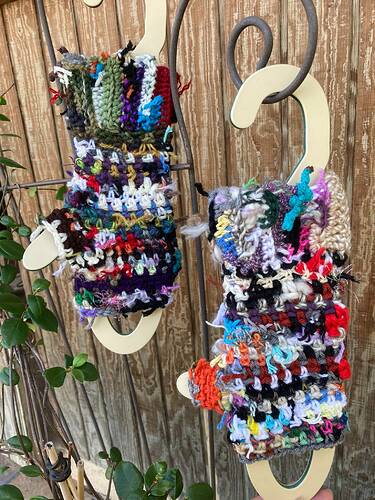 There's also little flowers or hearts I make for wrapping orders with Slightly longer scraps