Hey everyone! Hopefully I'm posting this in the right place. I'm not sure if anyone will get anything out of this but at least one day I can look back and see how far I have come from the first month of crocheting.
Sometime ago someone, ( I don't remember who anymore), gave me a whole trash bag full of yarn. For months it was sitting in a container under my bed but now I've finally decided to do something about it! So I picked crocheting.
I started at the beginning of the month only making small things and only following along with video tutorials. I had no clue how to do any stitches, how to even hold my yarn to keep a good tension, and magic circles felt impossible. I tried to follow along with a video to make a triceratops plush but I didn't even finish the head before I gave up since it was so mishapen from not knowing anything or counting my stitches properly. I felt pretty crushed after failing which although was very frustrating, I kept moving along.
(Left to Right, First heart made to Final heart)
I made a few more things, A few cute coasters I won't really use, a chicken pot holder as a christmas gift, a plush bee, and a granny square I have no idea what to do with.
Then I started looking around and found a pattern that led me here to Ribblr. It was a cute bear but it would be the first time I followed a written pattern so I was extremely nervous. I took my time, it took forever, I made a mistake with the legs, but I finished it and loved it.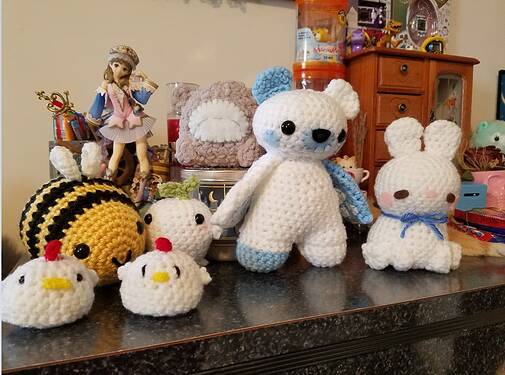 Now I've made a few more plush and looking for more patterns to make! If you're starting out like me and getting frustrated, finish the piece. Maybe try finding a different tutorial that will just make it click or try a different thing entierly. Practice, people say it all the time for everything, and I think most people would rather skip the awkward phase and failures, but practice.
Thank you for reading!