I'm selling 6 skeins tomorrow
just a small neuter, but still
Yeah, just a "small" snip, but will it work tho?
I haven't bought any new yarn in 5 months or so… XD so it seems to be working so far
That is fabulous! What discipline!
What empty bank account, you mean
trust me, I have no discipline. Just broke and disabled.
I'm sorry. I'm disabled and on a pension due to long COVID. Thank God my pension is more than what those poor people get from Social Security.

One of the ways I get yarn is save about $100, then start hunting for deals.
For example, Premier yarns has a clearance section I keep an eye on. I just received a box of Universal Yarn, which I love, Uptown Baby Sport- antipilling acrylic 361 yards for 1.99. Free shipping with $75 minimum order.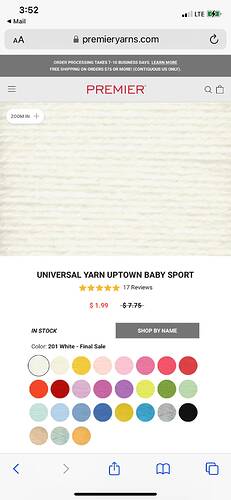 Yes, I do this too, I only ever buy on sale!
But rn struggling to even make rent so it's not really the time to buy yarn XD I would rather buy food when I have extra money. The situation's improving, but still having those difficult days. One day at a time