So true
Sorry don't get it​
FACTS
Once I was in Menards wearing this rainbow mandala shawl.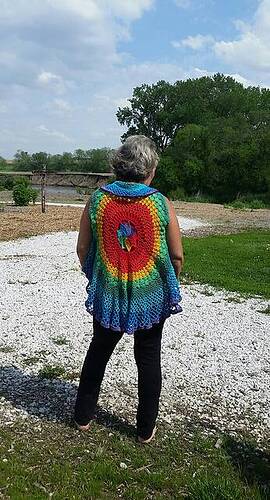 I heard yelling from halfway across the store "Did you make that?" Somehow I knew she meant me. I sold it to her then and there!
Not quite "yarn". But close.
@HookedByMarilyn that's so awesome I love random buyers. I once sold things in a bus
I see girls wearing adorable crochet things sometimes around town, like in the Target parking lot and I often holler over something like "OMG so cute did you make that??!!??"
I was in the board games aisle at Target the other day and a lady asked if I was looking at the last copy of Catan so she wouldn't be taking it from me just in case, and I told her I have played more than enough in my lifetime, and haven't been able to touch the game since I crocheted a queen bed sized version of the board a few years ago. She stated that she would definitely buy that, and I regret not giving her my business card, as I have been planning another updated version of that blanket.
Always support your fellow yarn art/ists in the wild!
Correct, the base board without expansions. Unfortunately I don't have any pictures, it was a gift for someone about… 9 years ago? Then a few months later I crocheted the player pieces for him just in case he wanted to play giant Catan.
That would be so cool. And, geez, I'd love to see this blanket!
Wow. That's pretty amazing. Two great gifts.
I have a new one color planned, when I make it I will be sure to write out a pattern and post pictures on here for everyone.
That's gonna be great! Can't wait!