Over the past few months we've been made aware of a concerning issue - several fast-fashion brands started to mass-produce copies of unique designs, made with love by indie designers.
The low-quality copies are sold for a cheap price which hardly comes as a surprise, considering the ethical reputation of the alleged brands.
After all - there is always a cost when prices are extremely cheap.
---
Empowering designers
Influence has always been an important part of all creative industries.
Yet there is a clear distinction between influence (and credit, when it is due) and a reproduced copy that lacks acknowledgment of the original designer.
One of our main goals, here at Ribblr, is to empower indie designers.
And this new trend goes against our ethos of supporting the slow fashion movement, and participation in DIY crafts in particular.
Unfortunately, well-known fashion designers have had to deal with copies & knock-offs for decades, as it is nearly impossible to legally protect a design.
And Ribblr is no different.
A few months ago we were informed that a fast-fashion brand listed an identical copy of a garment designed by Team Ribblr.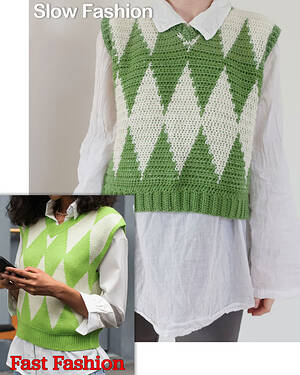 (Our pattern: FREE Preppy Diamond Vest: Crochet pattern | Ribblr)
---
Let's celebrate you and your craft!
As a crafter, you can appreciate how much work and passion goes into a handmade creation.
That's why we believe the best way to support designers is to raise awareness so that people can understand the great value of sustainable handmade creations.
Crafting benefits us in so many ways - it improves our physical and mental health, it gives us joy and pride.
But it's much more than just that. It's an entire eco-system.
As a crafter, you provide incredible support for designers and their livelihood.
And just as importantly, you contribute toward a more sustainable future.
So join us in celebrating you and your craft

Buy a pattern from your favorite designer, start designing your own patterns (did you check out Ribbuild yet?) and invite your friends to pick up crafting for the first time!
Happy new year and happy crafting,
Team Ribblr
---