We're looking for a few testers to test this new Ribblr design - Chunky Cow Slippers ,which are a super cute and fluffy slippers made with chunky chenille yarn! If you are an intermediate crocheter, or an advanced beginner, then this is just for you! This pattern includes a full video tutorial as well!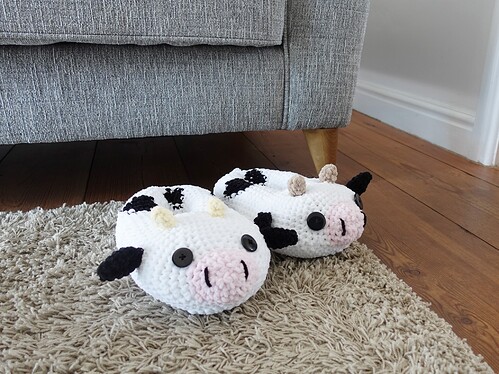 Pattern: Chunky Cow Slippers
Craft type: Crochet
Skill level: Intermediate
Sizes available: Kids-Adults
Materials required: 200-300g Chunky chenille yarn (In Main color, up to 50g in all other colors), you'll also need thick felt fabric and some craft supplies such as needles, thread and toy stuffing.
Testing starts: 17th June
Testing ends: 8th July
If you are chosen, you will be gifted with this pattern - make sure you start a pattern journal and make a note of the size you are making, so we can see your WIP notes & photos.
Comment below if you're interested in testing this pattern, and which size are you going to make!