I need testers for my Dust Bunny, Swiffer Cover - Crochet ePattern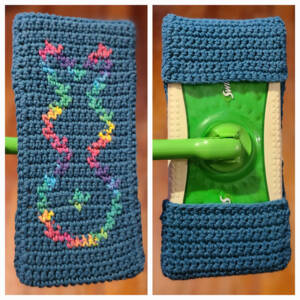 I added an alternate way to make this without the dust bunny design. I was going to make a separate pattern but this is better.
This is an advanced beginner pattern. Mainly because of stitching the pockets into place with slip stitches. But it is made only with sc if you choose not to do the dust bunny design.
I recommend worsted weight 4, cotton yarn, such as Sugar'n Cream. Total weight is 1.7 oz.
I used an H, 5.0 hook for the starting chain, and a G 4.25 hook for the remainder. But, it's your swiffer cover, so choose your yarn. But, you need to meet gauge this time. I have included instructions on how to do a gauge swatch. Which, technically, the project isn't much bigger than a swatch … so maybe we could skip that and just measure after enough rows.
If you choose to do the dust bunny design, you need to know how to do either c2c, or tapestry crochet. Directions for those skills are not included.
Depending on how many testers apply, I will be selecting testers, and adding to a group tester chat as soon as possible.
I will be testing out the Ribblr feature of blocking the pattern as it is completed. So, the first step will be to make a journal. Simply start by listing your yarn choice. This will need done by the following day after being added to the test, or you will be removed from testing. After this, updates with photos are fun for us all to see.
Thoughts or issues during the test should be communicated within the group chat, not the journal.
As always, communication is the key.
Testing must be completed by January 30th.
Pattern will be gifted to all who complete.
Any questions, let me know.