I need testers for my Cherry the Tomato Frog - Crochet ePattern
Click pattern photo to apply: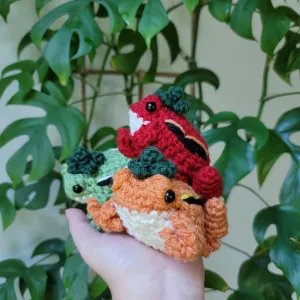 I need 5-8 testers for for my friends here.
Testers will be chosen on Sept 9th.
Requirements:

journal

communication every few days (if no response in 3 days you will be removed).

feedback (the good and the bad).

what yarn you used (no yarn requirements, I would like a mix if possible).

what hook size you used.

not really meent for complete beginners, must be able to do color changes, sewing on parts, etc.
Appreciated:

2-3 photos of the finished project.
The pattern will be gifted upon completion.
Due Sept 18th
The pattern will be released on Sept 21st
Thank you to all those who apply