hellaur
looking for a few testers to test my no sew frog + bear in overalls. they are completely no sew, yes including the arms. the highest stitch count is 24! so it's quite small. this is a intermediate pattern as it has some techniques that a beginner might struggle with.
i'd like a group of people who can use a variety of yarn(chunky or light weight). pls let me know in the comments what you will use and i will be more inclined to choose you. i will gift the pattern upon completion. there is no yarn or colour requirements, go wild
you are not required to make both frog and bear, however the overalls are required. please read requirements before applying.
requirements​
must journal when completed.

communicate in group chat+ provide feedback (good or bad) failure to talk/complete will bar you from future tests.

must complete within a week of being chosen (due date: 29th september )
Crochet ePattern
Click pattern photo to apply: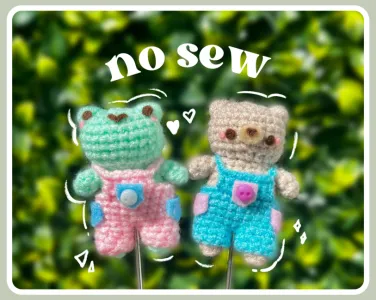 please do not apply if you have multiple unfinished pattern tests or if you are unable to meet the requirements.
more photos