I need testers for my Checkerboard Crochet Pouch - Crochet. ePattern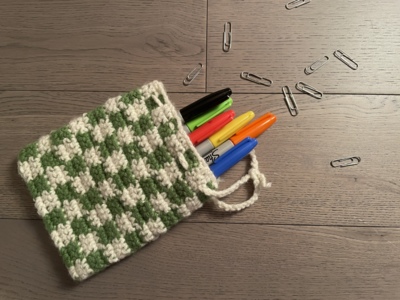 It's cute and would be perfect for crochet hooks, I'd love to test it for you
Id love to test this little bag. When the deadline, what size hook please, what weight yarn please and what the gauge and the stitch please thankyou.
Hi id love
to test your pattern im in Auckland New Zealand, what is the deadline please,type if yarn used and how much in granms/ skein, no crochet hook and gauge please thankyou it would be awesome as i play checkers with my Granddaughter all the time.
Hey Everyone I apologize for the lack of information i provided you guys with. This is my first test patterns and didn't know how it works but you all have helped me so much!
Yarn- I used red heart super save. I used about a half of a skein of yarn.
Gauge-There was no particular gauge for the pattern. But when i used the red heart super saver 3 rows equaled about one inch.
I used a sc for the entire pouch.
You can use whatever hook best suits your yarn.
I will pick 5 testers and i would like then to be finished one week after i give the pattern out! Happy Crocheting!
I would love to test your checkers bag it wiuld be fun and using it wen i play checkers with my Granddaughter :))
I would love to test it c:
Id love to test your pattern i cant wait for your decision. I love crocheting fun things and your checkered pouch looks super. When do you think youll choose your 5 testers id like to be picked
I selected my patterns testers! Please message me with comments or concerns regarding my pattern.
Thankyou so Much for letting me test your pattern. You Grandma must have been very proud of you… sorry for your lose. I taught myself to crochet at 6 years old. Which this Birthday that'll be 50 years. All the best sorry wat i wanted to ask is can i use 8ply yarn as i dont have the red heart super savervyarn,plus im In Auckland New Zealand
Thats perfect. You can use what ever yarn and hook you want. The different tarn weights will affect the finished size.
Hi im about to start your test pattern checkerboard Pouch in the materials there's no size crochet hook to use???
Also Gauge-youve put : 2 pattern repeats =1"
Worked over 6 rows i dont think thats enough for a gauge. Thankyou. Maybe you could add that you can use any yarn and any hook.
Copied from your message littletatertot123
Thats perfect. You can use what ever yarn and hook you want. The different tarn weights will affect the finished size.
Hi Where is says in your pattern " I was 《origanly》 should be originally.
Where it says "This is a quick and easy pattern that you can easily make as a gift, for yourself, for a friend . ( I'd actually have more instructions as im 55 and I've never done colorwork only stripes; I'm an advanvanced/ intermediate crocheter but if you've done the block color you need to explain more. Also there's no turning ch at end of row. Looks pattern. You've put alot of work into it. I've had to YouTube as this is new to me so I'll work it out though. Also I do not know how to edit text in the journal. Thanks.