I need testers for my Pencil Keychain - Crochet ePattern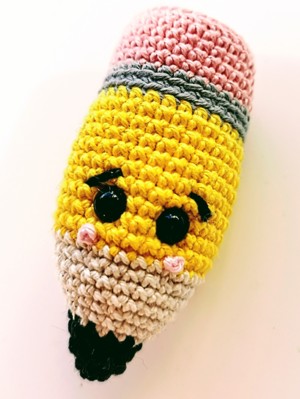 Will bw happy to test it for you if you like
This is the cutest!! I'd
To test it!
Do you provide instructions on how to attach the keychain? If so, I'd like to test.
I could test this for you.
When does the test start and when is the due date?
No, sorry, I only show how to make the amigurumi itself
It starts now that I've posted it and ends when you have finished, it doesn't have a particular timeframe
You've been added!
I can help you in that to attach it the sunflower keychain and you may use the same photo for both keychains. I think it's easy step.
And thanks I received the pattern will work soon, is there any deadline.
awesome. is there a particular way you like to have feedback? or is doing journal entries good for feedback? If i do notes in a tester pattern, can you see those as well?
Id like to test if possible
I particularly love the detail where you make a clean line where "metal" meets "pencil" but leave the more jagged style color change where "lead" meets "wood" meets "pencil". SoooOoo Satisfying~ 10/10
Care to share with me how to attach chain to a given amigurumi project?
Sure am happy to help, there's so many ways depend on your available thing you gonna use as a keychain or a hangger. You can send me private message and will help you in that.
You most welcome
That would be really, really nice of you!! No, there's no deadline, take all the time you need!
I don't really have a preference, I'm quite new to Ribblr so I haven't figure out how everything works as of yet so if you want to make it easy for me you could either do a post or message me directly with feedback, but it's totally up to you!