I need testers for my Seagull crochet pattern - Crochet ePattern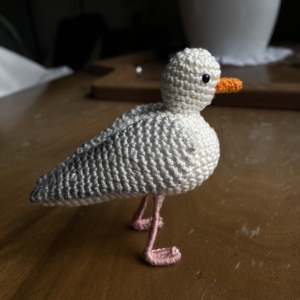 I need 3 people to test this pattern by Dec. 18th. You don't need to provide photos or post anything about it, I just want to make sure the pattern works out and is clear to read (proof-reading).
Materials used:
3mm hook
white yarn (fingering weight)
orange and dirty pink yarn (embroidery)
approx. 22cm of 2mm aluminium wire
pliers
super glue/instant glue
tapestry needle
sewing needle
4mm eyes (I used sew-on ones but you can also use self adhesive ones or just paint them on)
black liquid textile paint
painting brush
scissors
You don't necessarily have to make wired legs tho, it can also just be a leg-less seagull (or use something else like sticks).
Love, Xenia <3