I need testers for my Sunshine Lovey - Crochet ePattern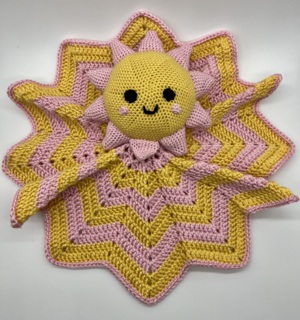 When do you need it done? Specific yarn type and/or color needed?
I'd like to make final edits and publish by September 12th. I used Caron Simply Soft but any standard 4 weight acrylic will work: any colors you want is fine, I just want to be sure the pattern reads well and makes sense
About how long does it take to make?
It took me about 13 hours to make
I think I may be able to test for you
Just thought I'd mention, I CAN test for you. If you'd like to send me the pattern.
This is a very cute pattern. It is cheerful and soft. I like using Caron Simply Soft also, it is one of my go to yarns, the other is Hobby Lobby Yarn Bee Soft Secret, very soft and has a lovely sheen. I wish you well with your design.
I would love to test this if your still accepting testers! It's so cute my toddler would love it
Super cute!! Love it
Absoloutely adorable! Would love to help test this pattern, if you're still looking for testers. I think I'd use the Bernat finer Fleece yarn. My instagram is @knotted.sin.
Would love to test this pattern
Thank you so much, everyone!
I've selected my testers and I appreciate everyone who is interested in this pattern. I hope to publish mid-September
I love it
i would love do to this sunshine
I put closed in the header for you.
Thank you
I'm still new to Ribblr and all it's functions