I need testers for my Percy the Pear-Bear - Crochet ePattern
Click pattern photo to apply: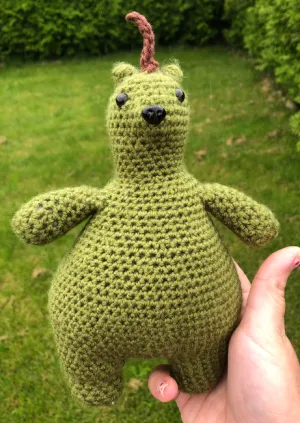 I'm looking for 5-8 testers for this no-sew pear-bear, and depending on how many people reply, I might choose them 31st August, or 1st September.
This will be a paid pattern when it releases.
What I expect from you as a tester:
Post at least a finished photo in a journal

Point out flaws in the pattern and keep an open line of communication in the group chat

Be able to finish the pattern before the deadline/due date; 17th september

He can take a while to make, so make sure you start in time! Making the stem is optional.

Make one of the two accessories. These don't necessarily need pictures, but I want to know if the patterns for them work as well!
You can use whatever colors, yarn and hook size you like. Just keep in mind that you usually want a smaller hooksize than is recommended on the yarn label when it comes to amigurumi!
I used aran weight yarn and a 4 mm hook for mine.
Please let me know if you have any questions!
Update; Here he is, wearing his accessories! It's kind of unfair asking you to crochet an accessory without knowing what it looks like, right?