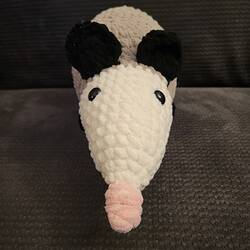 Hello all-
I need a few testers (up to 5) for my Log the Opossum pattern.
This is the first pattern I am putting up on this site. So there may be a few suggestions in terms of layout or other site related issues that arise. Please be patient, as I am still learning.
I have only recently begun to share my patterns and makes. I may have some terminology or wording of some steps which is unclear to others, so just let me know as you find it and I will do my best to make it more easily accessible.
Because many of us are busy and I have a full time job- due date will be in 2 weeks on 1/29/23.
The pattern itself should work up quickly- I have been making them for a few years and they only take me a couple hours anymore, but I may crochet faster than others. I would consider it a beginner friendly pattern- but there is some sewing involved. More professional photos will be included in the final pattern (I am waiting on my camera to come back from being borrowed.)
Those who want to apply please consider the following:
Please have the pattern completed, including a journal, by 1/29/23.
Constructive feedback is appreciated through private messages
Super bulky- Bernat blanket is standard but I would love to see Logs of all sizes and yarn types
Consider posting it to your social media tagging my Instagram (not required but appreciated)
Happy crocheting!
-Jadie