We're looking for a few testers to test this new knitting Ribblr design: The Split Jumper !
This is the knitting version of the famous Crochet Split Jumper on Ribblr. It has no 'Back', so you can make it in two, three or four colors and wear it in two different ways! This creates two looks using one garment only!
If you are an intermediate or an advanced-beginner knitter, then this pattern is just for you!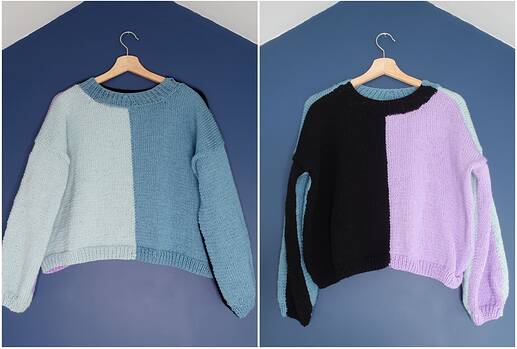 Pattern: The Split Jumper
Craft type: Knitting
Skill level: Beginner-Intermediate
Sizes available: XS-3XL
Materials required: Light worsted/DK yarn (approx 400g-800g total depending on size)
Testing begins: 16th March
Time to complete testing: 6th April
To apply to be a tester, comment below which size you'd like to make, and share your Ribblr journals or Instagram page.
If you are chosen, you will be added as a tester for the pattern, and you need to be able to take good quality pictures of the finished jumper.
Team Ribblr