Happy Pride Month everyone!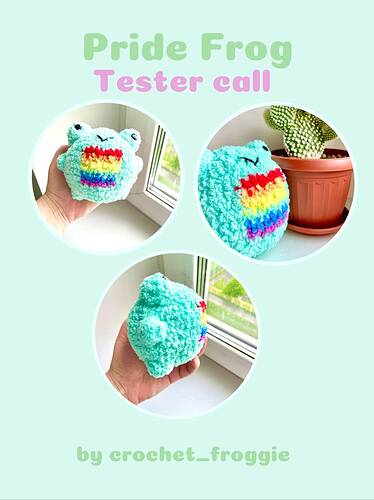 I am searching for testers for my Pride Frog pattern! I will release it here on Ribblr and on my Insta crochet_froggie.
Please apply here or on Insta if you'd be interested to test! This pattern is for Advanced Beginners/Intermediate, you should know how to do basic stitches, change colors, sew on limbs.
I will announce testers on 25th June (it's also my b-day!) You will have 2 weeks after this date to proofread the pattern. I would also very appreciate if you uploaded your makes here or on Insta. Apply with this in mind.
I do know that there are similar Frog designs but none of them is made to have a Pride flag on the belly. I also didn't copy anyone's designs and wrote this pattern from scratch. If you have anything to discuss with me please write a DM and we will figure it out.