Hi!
This post is for an educational purpose, and I hope it helps you in your crochet journey!
I'm making this post so more people can benefit from this "trick".
If your circular projects look like they have corners, or turn into hexagons and the corners become more and more visible, it's possibly because you follow these kinds of what we can call "regular" increases and decreases;
6 sc in magic ring
6x (inc) [12]
6x (1 sc, inc) [18]
6x (2 sc, inc) [24]
6x (3 sc, inc) [30]
6x (4 sc, inc) [36]
6x (5 sc, inc) [42]
6x (6 sc, inc) [48]
etc.
This kind of increase pattern causes your increases to stack on top of each other, because you make the increase in the last stitch of the repeat (an increase stitch) in the previous round. The same applies to decreases, where you cause the stitches to "dip" at the same place.
Making increases that stack on each other starts making that part higher, thus creating "corners" in your work.
The way to resolve this is to use something commonly called "staggered increases". This simply means that the increases are placed somewhat irregularly rather than the example above. Since the "corners" usually don't start to appear before the third or fourth round of increases, you can make the choice of not staggering them until a bit later. But the earlier you do it, the rounder your circle will be.
Staggered increases can look different but still work because they don't stack on each other. But here's an example;
6 sc in magic ring
6x (inc) [12]
6x (1 sc, inc) [18]
6x (inc, 2 sc) [24]
6x (3 sc, inc) [30]
2 sc, inc, 5x (4 sc, inc), 2 sc [36]
6x (5 sc, inc) [42]
3 sc, inc, 5x(6 sc, inc), 3 sc [48]
etc.
A thing that helps me when thinking about how to do these is that I remove one repeat (where there was a 6, you see a 5) and divide the number of single crochets as evenly as possible to the start and the end of the round. This makes the increases land in the middle of the last round's repeats. Just remember to add an increase before the "5-repeat" too, or you'll only increase your round with 5 instead of 6 stitches.
An exception where you don't really have to do this is when the amount of increases changes for a round. For example:
6x (6 sc, inc) [48]
4x (11 sc, inc) [52]
Because then you already have the increases in a different place than the previous round.
Here you will see a picture I took before; the beige circle is made with "staggered" increases, and the blue one is made with "regular" increases.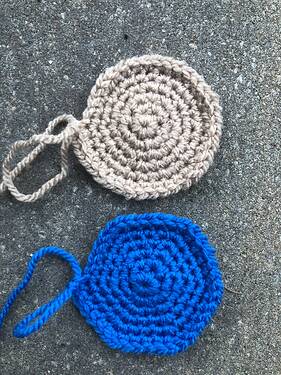 I just thought I'd share this in case it helps someone