LoL, who else has to periodically rearrange their yarn stash, craft area, whole house cause it exploded
Mine usually does that after the Christmas orders craze is over.
That dragged on a little longer this year, though I think I did rearrange it once in between.
This time I got new shelves and I'm rearranging all my magazines and books (not only crafting)
I've sorted out 3 boxes so far & started listing them on the FB marketplace.
If nobody wants them, the local used bookstore/coffee shop will gladly take them
Anyway, these shelves are pretty amazing, I get to put ten totes on there. I ordered a second one.
We can actually use the front door again!
We never really do, hence me transforming this to my yarn storage.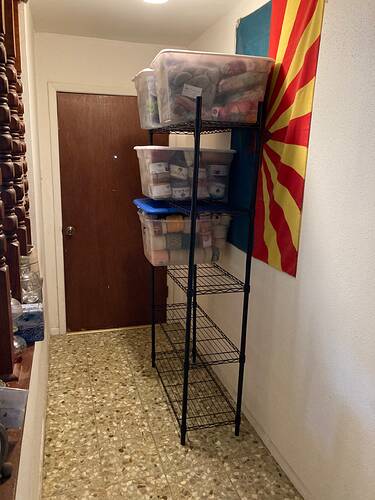 I also got one for my wip boxes (and ordered a second
)
I can never just work one project

The second will hold my inventory or even go to markets with me. We shall see.
Still a lot to do, ….


Wo else lives in a giant craft room​