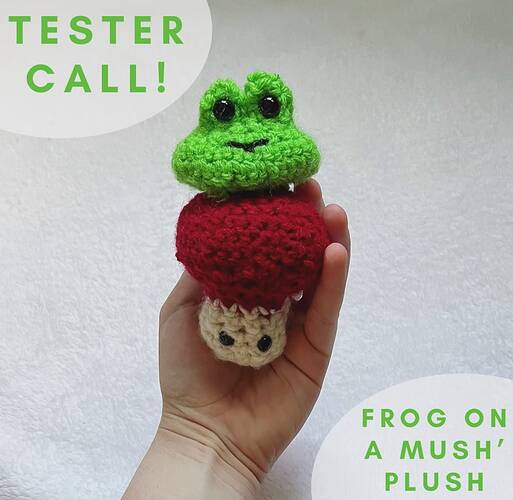 PATTERN TESTERS NEEDED​
Please read all info below
The Frog on a Mush' Plush is an easy, no sew pattern that works up very quickly. A great stash buster project, you can use any yarn weight and colors!
I'll be selecting and messaging testers in a couple days
This pattern is super beginner friendly and I would love for it to be tested by people of all skill levels!!
To qualify for pattern testing:
• Comment that you would like to test, and include your Instagram handle if possible!
• Be able to finish the project within a week of being sent the pattern (project should only take around 1-2hours, depending on your crochet speed
)
• Take good pictures and be willing to post them / share them with me to help promote the pattern release
You will yarn in 3 colors: frog, mushroom top, and mushroom stalk.
You may use any yarn, but it would be best if your three colors are of the same weight.
You will also need materials to make the face(s); safety eyes, black yarn, felt, etc. Whatever method you prefer!
The pattern & all other necessary info will be sent to the testers.
Thank you for your support!