I'm working on a pattern and having a heck of a time trying to word some of the steps. It's worked in the round, and the step I'm having issues with alternates between sc in color A and rounded picot stitches in color B.
[A] sc, sc, ([B] rounded picot, [A] sc) repeated.
The color changes should occur before the first chain stitch of the rounded picot, and at the end of the sc that finishes the rounded picot (all in one stitch)
The issue I'm having is in wording when the color change should occur - the drawing below describes it the best I can (each black bracket is one stitch):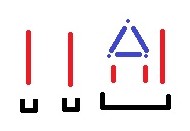 How would you word this?