I recently got a great desk chair that helps or I use a thick pillow against my back.
I sometimes use a pillow, but mostly just try to sit up straight
Yes good posture helps but after several hours can get uncomfortable too
I have like 3 areas that I hang out in with pillows and easy access to whatever. I move around a lot and readjust position. You can see from my couch, I can sit, sit up with leg on floor , or lay out on chaise and adjust all my yummy pillows to put under my back, hip, leg, etc.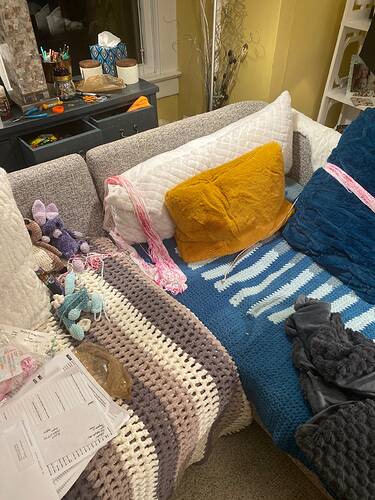 I see the bunny from your guess my wip post!
I usually lay on a mountain of pillows but sometimes I just crochet laying down lol
I find remembering to strech and make sure your comfortable. I also try to take a break and stand up every hour or two.b
I love all of the suggestions from everyone, I'm a mix of layering all the pillows
, or sitting up straight… just depends on my mood.
Pillows…specific pillows, especially for the lower back area. Heating pad…I actually covered mine with a few granny square blocks so it's always comfortable. The heat really helps me. I use those little Salonpas patches when my shoulders get too tight. Take breaks every hour: get up, move around and stretch. I also take a walk with my little dog twice a day and noticed that really helped. Elevate the legs with a foot stool also helps. I also started stretching from my desk chair while I am waiting for things to upload/download. I'm trying to make those stretches a habit: stretch the shoulders/neck/hands/arms/etc. Most of all? I started working from a desk top instead of the couch or bed like I used to.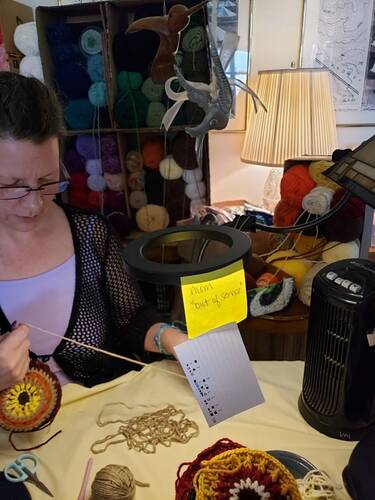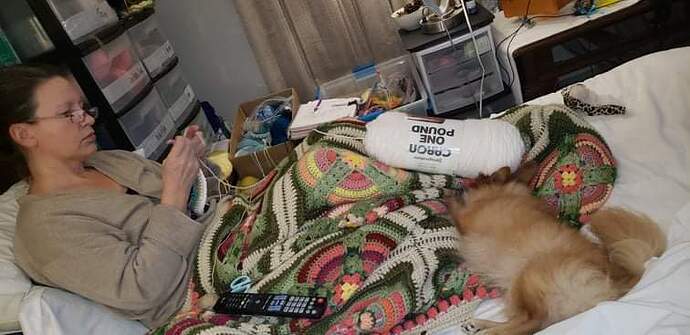 Yes, i think the upright posture that's forced by a desktop is better for the body than reclining for hours.
Your place- a true fiber artist!