i got over $50 worth of yarn, i dont know how to organise it and i need help
I make all my yarn into cakes and organize them by color /simularities on my rolling craft cart! I have a 4 tier cart. Ive also seen the wall organizers that have pegs so you can hang the cakes on there! I love that idea too but I didnt have wall space
I usually put them in cubbies and sort by material and color.
I have mine set up like this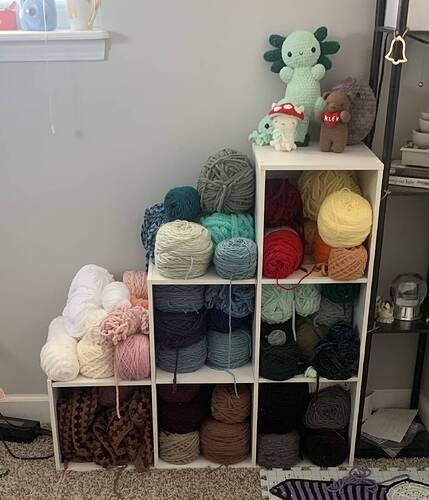 Some are caked and some aren't based on yarn type
I just bought over $100 worth of yarn (got it on sale for $62 though!!) and I have nowhere to put it lol so I gotta figure that out
Hi! I had so much yarn everywhere that i organized it by material and had it on boxes. Now i took an idea of Pinterest and made a shelf so i don't have to look everywhere for that specific yarn that im looking
is like artnium but on the wall
this looks amazing!! i just have a bin of tangled yarn so im excited to put my new and old yarn into an orgnizational spacfe
that sounds really cool!!
I have clear tubs. I stack them, and can see whats in them. I have them by yarn types, and somewhat by colors. But mine is mess right now.
that sounds kind of like what i have right now, accept mine is a tangled mess
I also have a yarn winder to make the tangles into cakes. So nice!
i have a yarn winder too!! i just need the motovation to detangle the yarn
It is a big project in itself.
I just worked on one small skein this morning. Do a "LIVE" and we can join you while doing ours. Hahaha Really though, maybe if you just do a little at a time. Divide and conquer.
yeah!! i cant do a live because i dont have a youtube account and cant realy talk at my house because parents, but i can join lives and talk in the chat!!
Is that how it works? Youtube? I haven't checked into it myself. Just kinda being silly. Good luck with your mess. Maybe if you post a before, during, and after picture it would be fun.
Id recommend caking and stacking in an area! I don't have a cake making thingy, so i do it by hand. It helps organize them by color since you can fit more:)
You can organize by
Brand
Color
Fiber Type
Weight of yarn
If many skeins/group all that together.
When I have 10-15 balls/skeins/cake, I put them in a hammock on the wall.
I used a pegboard for those yarns I have a small amount up to 2 skeins. These were caked and I used cut up dowels to stick into the holes of the pegboard. Significant less expensive than those pegboard prongs!
See through buckets for large amount of yarn sorted by Brand.
And cubed bookcases.
Maybe, if I remember I can share the pictures.
I like to organize yarn by texture/type, and then color code them warm/cool tones
Where did you get the little triangle thingy to hold your yarn?
I had a yarn winder and I got it from Amazon, but rn is the 2nd time it broke( same winder) but it keeps making it all yarned to one side instead of making a cake